Cytotoxic Activity of Benalu Batu (Begonia sp.) Methanolic Extract: An Ethnomedicine of Wana Tribe Central Sulawesi
MUHAMMAD SULAIMAN ZUBAIR

UNIVERSITAS TADULAKO

SYARIFUL ANAM

UNIVERSITAS TADULAKO

YULIET .

UNIVERSITAS TADULAKO

AGUS RITNA

UNIVERSITAS TADULAKO

FIRMANITA DWIMURTI

UNIVERSITAS TADULAKO

DEWI RISMAYANTI

UNIVERSITAS TADULAKO
Abstract
Benalu batu (Begonia sp.) is used as traditional medicine by Wana tribe in Central Sulawesi to treat various diseases, including cancer. In an effort to search potential anticancer drugs from natural sources, investigation was conducted on the cytotoxic activity of Begonia sp. methanol extract against cervic cancer cells (HeLa) and breast cancer cells (T47D) and identification of the chemical compound groups in methanol extract that is responsible for the anticancer activity. Investigations including the extraction of Begonia sp. dried herb by soxhletation using methanol, followed by evaporation on rotary vapor until viscous extract gained. The cytotoxic test were carried out by tetrazolium bromide (MTT) method. The concentration series of Begonia sp. methanol extract were 250, 125, 62.5 and 31.25 μg /mL. Results showed that the Begonia sp. methanol extract inhibited the growth of cervic cancer cells (HeLa) (IC50 = 70.97 μg/mL) stronger than inhibition on breast cancer cells (T47D) (IC50 = 122.21 μg/mL). Analysis of chemical compound groups in the methanol extract using thin-layer chromatography (TLC) method indicated that polyphenolic flavonoid might be the main compound responsible for the anticancer activity
References
1. Tjindarbumi D, Mangunkusumo R. Cancer in Indonesia, present and future. Jpn J Clin Oncol. 2002. 32:S17-21.
2. Nugroho YA, Nuratmi B, Suhardi. Daya hambat benalu teh (Scurulla atropurpurea Bl. Danser) terhadap proliferasi sel tumor kelenjar susu mencit (Mus musculus L) C3H. Cermin Dunia Kedokteran. 2000. 127:15-17.
3. Herik N. Sistem pengetahuan dan pemanfaatan benalu batu (polohi wasu) pada masyarakat desa Wawopada Kecamatan Lembo Kabupaten Morowali [skripsi]. Palu: Fakultas Ilmu Sosial Dan Ilmu Politik, Universitas Tadulako; 2009. 35.
4. Ramesh N, Viswanathan MB, Saraswathy A, Balakrishna K, Brindha P, Lakshmanaperumalsamy P. Phytochemical and antimicrobial studies of Begonia malabarica. J of Ethnopharmacol. 2002.79:129–32.
5. Solomon J, Johnson MA. Antibacterial and phytochemical studies on methanolic extracts of Begonia floccifera Bedd. Flower. As Pac J of Trop Biomed. 2012.S151-4.
6. Velusamy K, Veerabahu RM.In vitro antioxidant studies of Begonia malabarica Lam. and Begonia floccifera Bedd. As Pac J of Trop Biomed. 2012.S1572-7.
7. Geoffrey AC, Young GS. Finding the needle in the haystack, the dereplication of natural product extracts. Pure Appl Chem. 1999.71(6):1089-94.
8. Doskotch RW, Malik MY, Beal JL.Cucurbitacin B, the cytotoxic principle of Begonia tuberhybrida var. alba. Lloydia. 1969.32:115–22.
9. Doskotch RW, Hufford CD. Antitumor agents V. Hexanorcucurbitacin D, a degraded cucurbitacin from Begonia tuberhybrida var. alba. Canadian J of Chemistry. 1970.48:1787–8.10. Fuller RW, Cardellina JH, Cragg GM, Boyd MR. Cucurbitacins differential cytotoxicity, dereplication and first isolation from Gonystylus keithii. J of Natural Products. 1994.57:1442–5.
11. Frei B, Heinrich M, Herrmann D, Orjale JE, Schmitt J, Sticher O. Phytochemical and biological investigation of Begonia heracleifolia. Planta Medica. 1998. 64:385–6.
12. Da'i M, Fiveri A, Meiyanto E. Efek sitotoksik ekstrak tanaman keladi tikus (Typhonium divaricatum (L.) terhadap sel HeLa. Jurnal Farmasi Indonesia. 2007. 3(4):163-167.
13. Radji M, Aldrat H, Harahap Y, Irawan C. Uji sitotoksisitas buah merah, mahkota dewa dan temu putih terhadap sel kanker serviks. Jurnal Farmasi Indonesia. 2010.5(1): 41-47.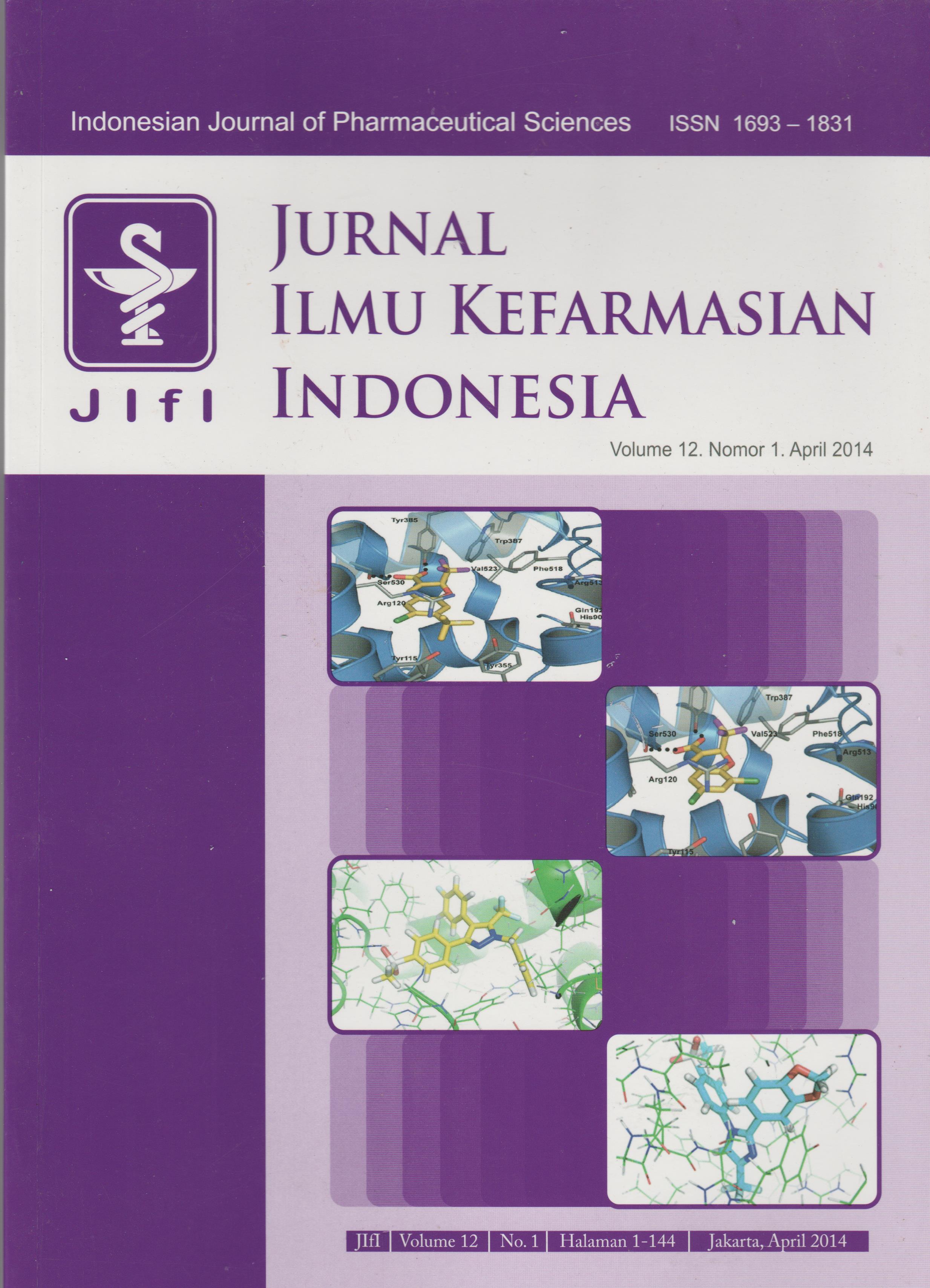 How to Cite
ZUBAIR, MUHAMMAD SULAIMAN et al. Cytotoxic Activity of Benalu Batu (Begonia sp.) Methanolic Extract: An Ethnomedicine of Wana Tribe Central Sulawesi.
JURNAL ILMU KEFARMASIAN INDONESIA
, [S.l.], v. 12, n. 1, p. 10-16, jan. 2018. ISSN 2614-6495. Available at: <
http://jifi.farmasi.univpancasila.ac.id/index.php/jifi/article/view/169
>. Date accessed: 26 mar. 2023.
Licence
Copyright @2017. This is an open-access article distributed under the terms of the Creative Commons Attribution-NonCommercial-ShareAlike 4.0 International License (http://creativecommons.org/licenses/by-nc-sa/4.0/) which permits unrestricted non-commercial used, distribution and reproduction in any medium

This work is licensed under a Creative Commons Attribution-NonCommercial-ShareAlike 4.0 International License.