Construction and Validation of Virtual Screening Based on Code Structure of PDB3MQE, 3NTG, and 3LN0 To Discover Cyclooxygenase Inhibitor-2 (COX-2)
ESTI MUMPUNI

UNIVERSITAS PANCASILA

ARGUN WIDARSA

UNIVERSITAS PANCASILA

YANTI SUSILAWATI

UNIVERSITAS PANCASILA

OISAN OISAN

UNIVERSITAS PANCASILA

ARIEF NURROCHMAD

UNIVERSITAS GADJAH MADA

HARNO DWI PRANOWO

UNIVERSITAS GADJAH MADA

UMAR ANGGARA JENIE

UNIVERSITAS GADJAH MADA

ENADE PERDANA ISTYASTONO

UNIVERSITAS SANATA DHARMA
Abstract
Cyclooxygenase-2 (COX-2) inhibitors are high demand drugs in the market. However, available COX-2 inhibitors nowadays have many side effects. Therefore, there is still a need to develop more potent selective COX-2 inhibitors and one of the method that has been prove the effectivity and eficiency for new drugs research is in silico. Structure-based virtual screening (SBVS) protocols were developed to find COX-2 inhibitors using the Protein-Ligand ANT System (PLANTS) docking software, SPORES, BKChem and Open Babel. The directory of useful decoys (DUD) dataset for COX-2 was used to validate the protocols retrospectively; the DUD consist of 426 known COX-2 inhibitors and 13289 decoys. Based on criteria value of EF20% and EFmax used in the article from Huang et al (2006) and Yuniarti et al (2011), two validated protocol, AYO_COX2_v.1.1 and AYO_COX2_v.1.2 , showed good results
References
1. Agarwal S, Reddy GV, and Reddanna P. Eicosanoids in inflammation and cancer: the role of COX-2. Expert Rev. Clin. Immunol. 2009. 5:145-65.
2. Inotai A, Hanko B, and Meszaros A. Trends in the non-steroidal anti-inflammatory drug market in six Central-Eastern European countries based on retail information. Pharmacoepidemiol. Drug Saf. 2010. 19:183-90.
3. Glover JA, Hughes CM, Cantwell MM, Murray LJ. A systematic review to establish the frequency of cyclooxygenase-2 expression in normal breast epithelium, ductal carcinoma in situ, microinvasive carcinoma of the breast and invasive breast cancer. Br. J. Cancer. 2011. 105:13-7.
4. Huang N, Shoichet BK, and Irwin JJ. Benchmarking sets for molecular docking. J. Med. Chem. 2006. 49:6789-801.
5. Yuniarti N, Ikawati Z, and Istyastono EP. The importance of ARG513 as a hydrogen bond anchor to discover COX-2 inhibitors in a virtual screening campaign. Bioinformation. 2011. 6:164-6.
6. Kellenberger E, Foata N, and Rognan D. Ranking targets in structure-based virtual screening of three dimensional protein libraries: methods and problems. J. Chem. Inf. Model. 2008. 48:1014-25.
7. Kellenberger E, Rodrigo J, Muller P, Rognan D. Comparative evaluation of eight docking tools for docking and virtual screening accuracy. Proteins. 2004. 57:225-42.
8. De Graaf C and Rognan D. Customizing G Protein-coupled receptor models for structure-based virtual screening. Curr. Pharm. Des. 2009. 15:4026-48.
9. Prasojo SL, Hartanto FAD, Yuniarti N, Ikawati Z, Istyastono EP. Docking of 1-phenylsulfonamide-3-trifluoromethyl-5-parabromophenyl-pyrazole to cyclooxygenase-2 using PLANTS. Indonesian Journal of Chemistry. 2010. 10:348-51.
10. Kufareva I, Rueda M, Katritch V, Stevens RC, Abagyan R, Participants of GPCR Dock 2010. Status of GPCR modeling and docking as reflected by community-wide GPCR Dock 2010 assessment. Structure. 2011. 19(8): 1108-26.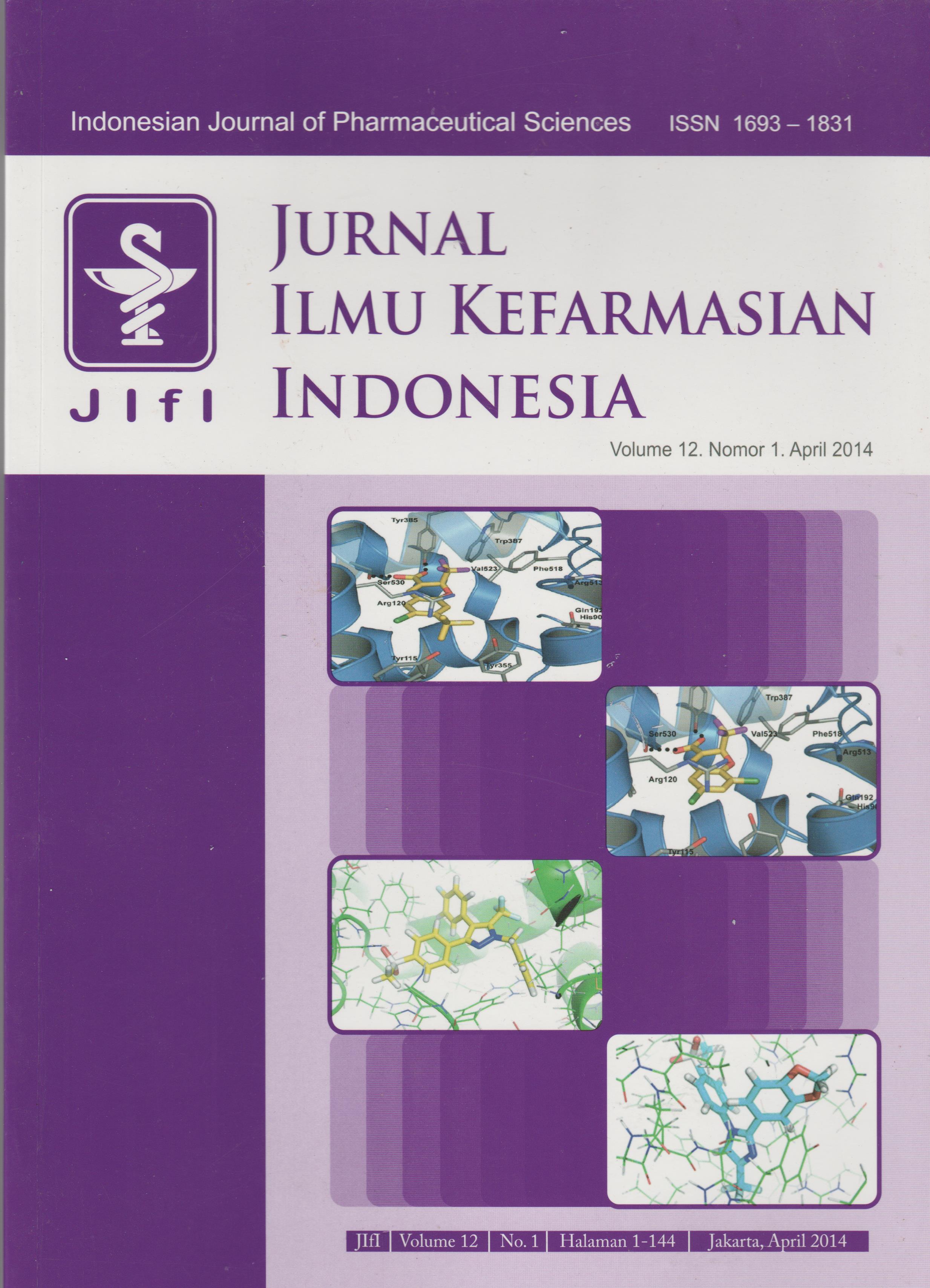 How to Cite
MUMPUNI, ESTI et al. Construction and Validation of Virtual Screening Based on Code Structure of PDB3MQE, 3NTG, and 3LN0 To Discover Cyclooxygenase Inhibitor-2 (COX-2).
JURNAL ILMU KEFARMASIAN INDONESIA
, [S.l.], v. 12, n. 1, p. 117-123, apr. 2014. ISSN 2614-6495. Available at: <
http://jifi.farmasi.univpancasila.ac.id/index.php/jifi/article/view/196
>. Date accessed: 27 sep. 2023.
Licence
Copyright @2017. This is an open-access article distributed under the terms of the Creative Commons Attribution-NonCommercial-ShareAlike 4.0 International License (http://creativecommons.org/licenses/by-nc-sa/4.0/) which permits unrestricted non-commercial used, distribution and reproduction in any medium

This work is licensed under a Creative Commons Attribution-NonCommercial-ShareAlike 4.0 International License.