Preclinical Study of 177Lu-DOTA-Trastuzumab: A Potential Radiopharmaceutical for Therapy of Breast Cancer Positive HER-2
MARTALENA RAMLI

NATIONAL NUCLEAR ENERGY OF INDONESIA

BASUKI HIDAYAT

DR. HASAN SADIKIN GENERAL HOSPITAL

SRI AGUSWARINI

NATIONAL NUCLEAR ENERGY OF INDONESIA

KARYADI KARYADI

NATIONAL NUCLEAR ENERGY OF INDONESIA

CAHYA NOVA ARDIYATNO

NATIONAL NUCLEAR ENERGY OF INDONESIA

HAMMAD SUBUR

NATIONAL NUCLEAR ENERGY OF INDONESIA

TITIS SEKAR HUMANI

NATIONAL NUCLEAR ENERGY OF INDONESIA

RIEN RITAWIDYA

NATIONAL NUCLEAR ENERGY OF INDONESIA

ABDUL MUTALIB

NATIONAL NUCLEAR ENERGY OF INDONESIA

JOHAN MASJHUR

DR. HASAN SADIKIN GENERAL HOSPITAL
Abstract
Radiopharmaceutical 177Lu-(1,4,7,10-tetraazacyclododecane-N,N',N",N"'-tetra acetic acid)-trastuzumab (177Lu-DOTA-trastuzumab), based on antihuman epithelial receptor type 2 (HER-2) monoclonal antibody which is expected to be potential for diagnostic and therapeutic agent of breast cancer positive HER-2, had been successfully prepared with radiochemical purity of > 99%. Preclinical studies aimed in providing basic data for clinical trial and particularly in finding out the effectiveness of 177Lu-DOTA-trastuzumab in killing cancer cells which over express HER-2, have been performed. The data included urine and faeces clearance tests, imaging with gamma camera and cytotoxicity test. The results showed that the excretion of radioactivity post injection of 177Lu-DOTA-trastuzumab in normal rats were more rapid through urine as compared to the excretion through faeces. The gamma camera image on normal rat 144 hours post injection of 177Lu-DOTA-trastuzumab showed that there was remaining a trace of radioactivity in hepatic area. The residue of radioactivity (< 5%, quantified by biodistribution test) was found to be relatively lower than reported for 111In-NSL-trastuzumab. However, this residue of radioactivity has to be seriously considered when 177Lu-DOTA-trastuzumab is going to be applied for treatment of cancer. Cytotoxicity test showed that 177Lu-DOTA-trastuzumab was far more effective in killing cancer cells positive HER-2 (SKOV-3 cell lines) than that of trastuzumab.
References
1. Globocan. Indonesia. www. Globocan. iarc/fr/factssheets/fractsheet.asp?uno=360. Accessed on 4 April 2011.
2. Tai W, Mahato R, Cheng K. The role of HER-2 in cancer therapy and targeted drug delivery. Journal of Control Release. 2010.146:264–75.
3. Cobleigh MA, Vogel CL, Tripathy D, Robert NJ, Scholl S, Fehrenbacher L, Wolter JM, Paton V, Shak S, Lieberman G, Slamon DJ. Multinational study of the efficacy and safety of humanized anti-HER2 monoclonal antibody in women who have HER2 progressed after chemotherapy for metastatic disease. Journal of Clinical Oncology. 1999.17(9):2639.
4. Horton J. Trastuzumab use in breast cancer: Clinical issues. Cancer Control. 2002.9(6):499-507.
5. Ross JS, Fletcher JA, Bloom KJ, Linnette GP, Stec J, Symmon WF, Pusztai L, Hortobagy GN. Targeted therapy in breast cancer, the HER-2/neu gene and protein. Molecular and Cellular. 2004.3:379-98.
6. Baselga J. Phase I and II clinical trial trastuzumab. Annals of Oncology. 2001.12:S49-55.
7. Baselga J. Clinical trial of Herceptin. European Journal of Cancer. 2001.37:S18-24.
8. Radiopharmaceutical: production and availability. www.iaea.or/org/About/Policy/GC/GC51Inf documents. Accessed on 5 May April 2011.
9. Dvorakova D, Henkelman R, Lin X, Turier A, Gerstenberg H. Applied radiation and isotopes. 2008.66:147–51.
10. Ketring AR, Embree MF, Bailey K, Taylor TT, Gawanis JA, Jurisson SS, Engelbreacht HP, Cutler CS. Production and supply high specific activity radioisotope for radiotherapy application. Special Issue: World Congress of Nuclear Medicine. Revista Medicina Nuclear Alasbimn Journal. 2002.5(17).
11. New promise for radiotherapeutic radiopharmaceutical, marker research in the healthcare with expertise in medical imaging and radiotherapy. 2006. Bio-Tech System, Inc. Accessed on 29 August 2008.
12. Ramli M, Humani TS, Rustendi CT, Subur M, Aguswarini S, Karyadi. Preparation, stability and biodistribution studies of 177Lu-DOTA-Trastuzumab, a potensial radiopharmaceutical for radioimmuno-therapy of breast cancer. In Proceeding International Conference and Exhibition on Science and Technology in Biomass Production. School of Life Science and Technology, Institut Teknologi Bandung. 2010:56-62
13. Lu-177 radiolabeled monoclonal antibody HuJ591 (177Lu-J591) and ketoconazole in patients with prostate cancer. http://clinicaltrialfeeds.org/clinical-trial/ show/NCT00859781. Accessed on 12th August, 2009.
14. Constantini DL, Chan C, Cai Z, Vallis KA, Reilly RM. 111In-labeled trastuzumab (Herceptin) modified with nuclear localization sequences (NLS): An auger electron-emitting radiotherapeutic agent for HER2/ neu-amplifeid breast cancer. J Nucl Med. 2007. 48:1357–68.
15. Zachary I. Determination of cell number. In: Hughes D and Mehmet H, editors. Cell poliferation and apoptosis. Oxford UK: BIOS Scientific Publisher Limited; 2003. 23.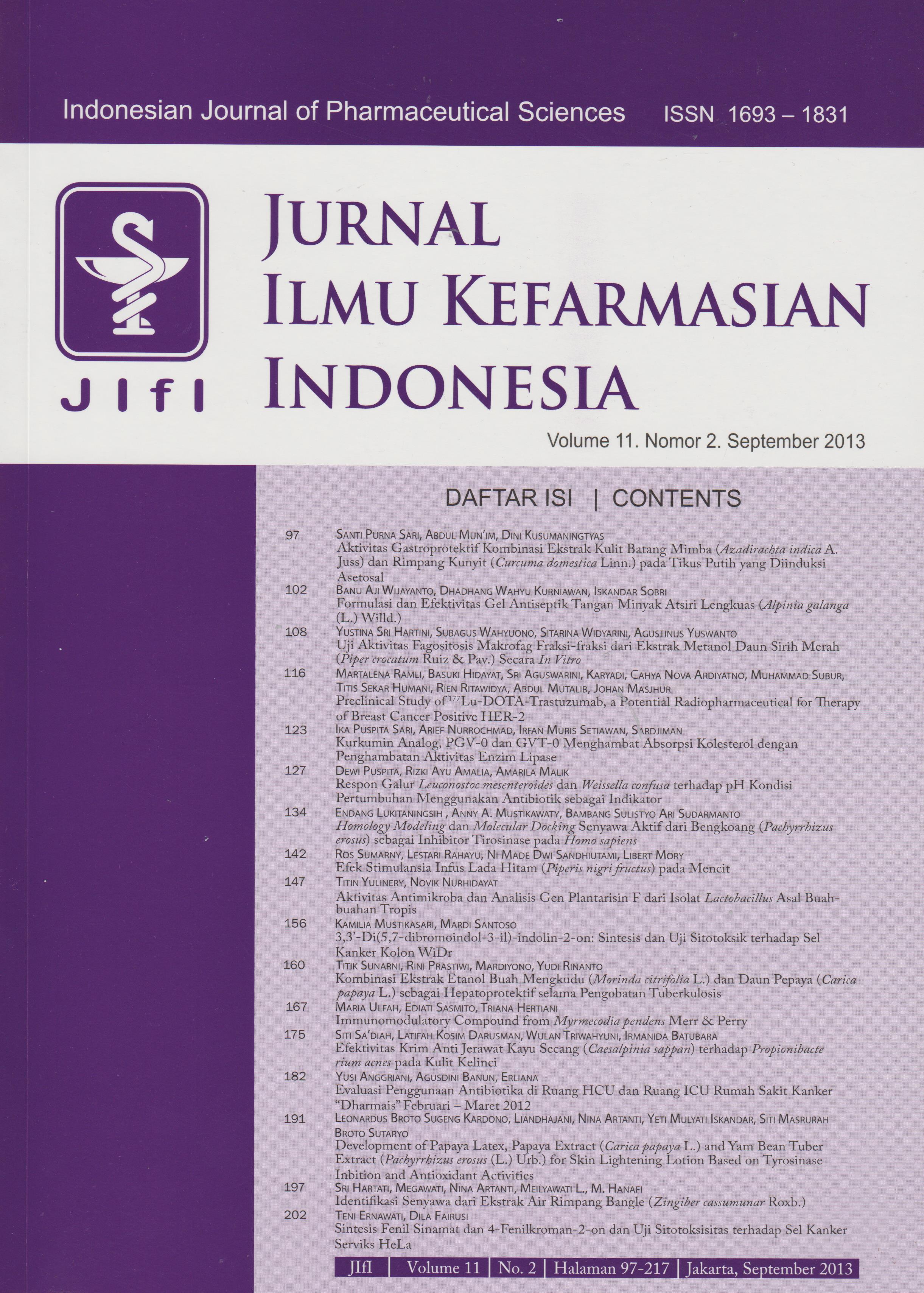 How to Cite
RAMLI, MARTALENA et al. Preclinical Study of 177Lu-DOTA-Trastuzumab: A Potential Radiopharmaceutical for Therapy of Breast Cancer Positive HER-2.
JURNAL ILMU KEFARMASIAN INDONESIA
, [S.l.], v. 11, n. 2, p. 116-122, sep. 2013. ISSN 2614-6495. Available at: <
http://jifi.farmasi.univpancasila.ac.id/index.php/jifi/article/view/203
>. Date accessed: 29 nov. 2023.
Licencing
All articles in Jurnal Ilmu Kefarmasian Indonesia are an open-access article, distributed under the terms of the Creative Commons Attribution-NonCommercial-ShareAlike 4.0 International License which permits unrestricted non-commercial used, distribution and reproduction in any medium.
This licence applies to Author(s) and Public Reader means that the users mays :
SHARE:
copy and redistribute the article in any medium or format
ADAPT:
remix, transform, and build upon the article (eg.: to produce a new research work and, possibly, a new publication)
ALIKE:
If you remix, transform, or build upon the article, you must distribute your contributions under the same license as the original.
NO ADDITIONAL RESTRICTIONS:
You may not apply legal terms or technological measures that legally restrict others from doing anything the license permits.
It does however mean that when you use it you must:
ATTRIBUTION: You must give appropriate credit to both the Author(s) and the journal, provide a link to the license, and indicate if changes were made. You may do so in any reasonable manner, but not in any way that suggests the licensor endorses you or your use.
You may not:
NONCOMMERCIAL: You may not use the article for commercial purposes.
This work is licensed under a Creative Commons Attribution-NonCommercial-ShareAlike 4.0 International License.