Development of Papaya Latex, Papaya Extract (Carica papaya L.) and Yam Bean Tuber Extract (Pachyrrhizus erosus (L.) Urb.) for Skin Lightening Lotion Based on Tyrosinase Inhibition and Antioxidant Activities
LEONARDUS BROTO SUGENG KARDONO

LEMBAGA ILMU PENGETAHUAN INDONESIA

LIANDHAJANI LIANDHAJANI

UNIVERSITAS PANCASILA

NINA ARTANTI

LEMBAGA ILMU PENGETAHUAN INDONESIA

YETI MULYATI ISKANDAR

LEMBAGA ILMU PENGETAHUAN INDONESIA

SITI MASRURAH BROTO SUTARYO

UNIVERSITAS PANCASILA
Abstract
Whitening or skin lightening products are well known as cosmetic. In this development, papaya latex (Carica papaya L.), papaya fruit extract and yam bean tuber extracts (Pachyrrhizus erosus (L.) Urb.) were combined for skin lightening body lotion formula. Antioxidant and tyrosinase inhibitory activities were evaluated in the starting materials and the products. Antioxidant activity evaluation was conducted using DPPH free radical scavenging activity method. Tyrosinase inhibitory evaluation was performed based on tyrosinase enzymatic inhibitory reaction to tyrosine as substrate. Papaya latex showed the highest antioxidant activity (32.01%), followed by yam bean tuber extract (27.04%) and papaya extract (26.09%). The tyrosinase inhibitory activities of papaya latex, papaya fruit extract and yam bean tuber extracts were 68.42 %, 36.80% and 52.63 % respectively, as compared to that of arbutin (100%). Based on product appearance, color, odor, pH and viscosity, the product were stable for 128 weeks. The expired date calculation on its antioxidant activity, however, the product was stable for 77 weeks. It is recommended that the product should be stored in non transparent bottle at low temperature or at about 25-28oC.
References
1. Martı´nez-Bustosa F, Lo´pez-Soto M, Martı´n-Martı´nez ES, Zazueta-Morales JJ, Velez-Medina JJ. Effects of high energy milling on some functional properties of jicama starch (Pachyrrhizus erosus L.Urban) and cassava starch (Manihot esculenta Crantz). Journal of Food Engineering. 2007. 78:1212–20.
2. Ong HC and Nordiana M. Malay ethno-medico botany in Machang, Kelantan, Malaysia. Fitoterapia. 1999. 70(5):502–13.
3. Nitsawang S, Hatti-Kaul R, Kanasawud R. Purification of papain from Carica papaya latex: Aqueous two-phase extraction versus two-step salt precipitation.Enzyme and Microbial Technology. 2006. 39:1103–7.
4. Kalie BG. Growing Papaya. Jakarta: Penebar Swadaya; 2005.
5. Gonsalves D. Transgenic papaya: Development, release, impact and challenge. Advances in Virus Research. 2006. 67:317-54.
6. Ahmad N, Fazal H, Ayaz M, Abbasi BH, Mohammad I, Fazal L. Dengue fever treatment with Carica papaya leaves extracts. Asian Pacific Journal of Tropical Biomedicine. 2011. 330-3.
7. Satrija F, Nansen PS. Murtini S, He S. Anthelmintic activity of papaya latex against patent Heligmosomoides polygyrus infections in mice. Journal of Ethnopharmacology. 1995. 48:161-4.
8. Park CI, Cho WG, and Lee SJ. Emulsion stability of cosmetic creams based on water-in-oil high internal phase emulsions. Korea Australia Rheology Journal. 2003. 15(3):125-30.
9. Yen GC and Chen HY. Antioxidant activity of various tea extracts in relation to their antimutagenicity. J Agric Food Chem. 1995. 43:27-32.
10. Shimizu K, Kondo R, Sakai K, Lee SH, Sato H. The inhibitory components from Artocarpus incisus on melanin biosynthesis. Planta Med. 1998. 64:408-12.
11. Homer GM, Katchman BJ and Zip RE. A spectrophotometric method for measuring serum tripsin inhibitor capacity. Clinical Chemistry. 1963. 9:428-37.
12. Egan W and Schofield T. Basic principles of stability. biologicals. 2009. 37:379-86.
13. Duke JA. Handbook of phytochemical constituents of GRAS herbs and other economic plants. Dr. Duke's Phytochemical and Ethnobotanical Databases. New York: CRC Press; 1992.
14. Martin MR. Harry's cosmeticology. New York: Chemical Publishing Co. Inc; 2000. 3-7, 377.
15. Mitsui T. New cosmetic science. Tokyo: Elsevier; 1997. 327-41.
16. Gurung S, Skalko-Basnet N. Wound healing properties of Carica papaya latex: In vivo evaluation in mice burn model. Journal of Ethnopharmacological Communications. 2009. 121:338-41.
17. Baskaran C, Ratha bai V, Velu S, Kumaran K. The efficacy of Carica papaya leaf extract on some bacterial and a fungal strain by well diffusion method. Asia Pacific Journal of Tropical Disease. 2012. S658-S662.
18. Abdelkafi S, Fouquet B, Barouh N, Durner S, Pina M, Scheirlinckx F, Villeneuve P, Carrière F. In vitro comparisons between Carica papaya and pancreatic lipases during test meal lipolysis: Potential use of Carica Papaya Latex in enzyme replacement therapy. Food Chemistry. 2009. 115:488–94.
19. Jaiswal P and Singh DK. Molluscicidal activity of Carica papaya and Areca catechu against the fresh water snail Lymnaea acuminata. Veterinary Parasitology. 2008. 152:264–70.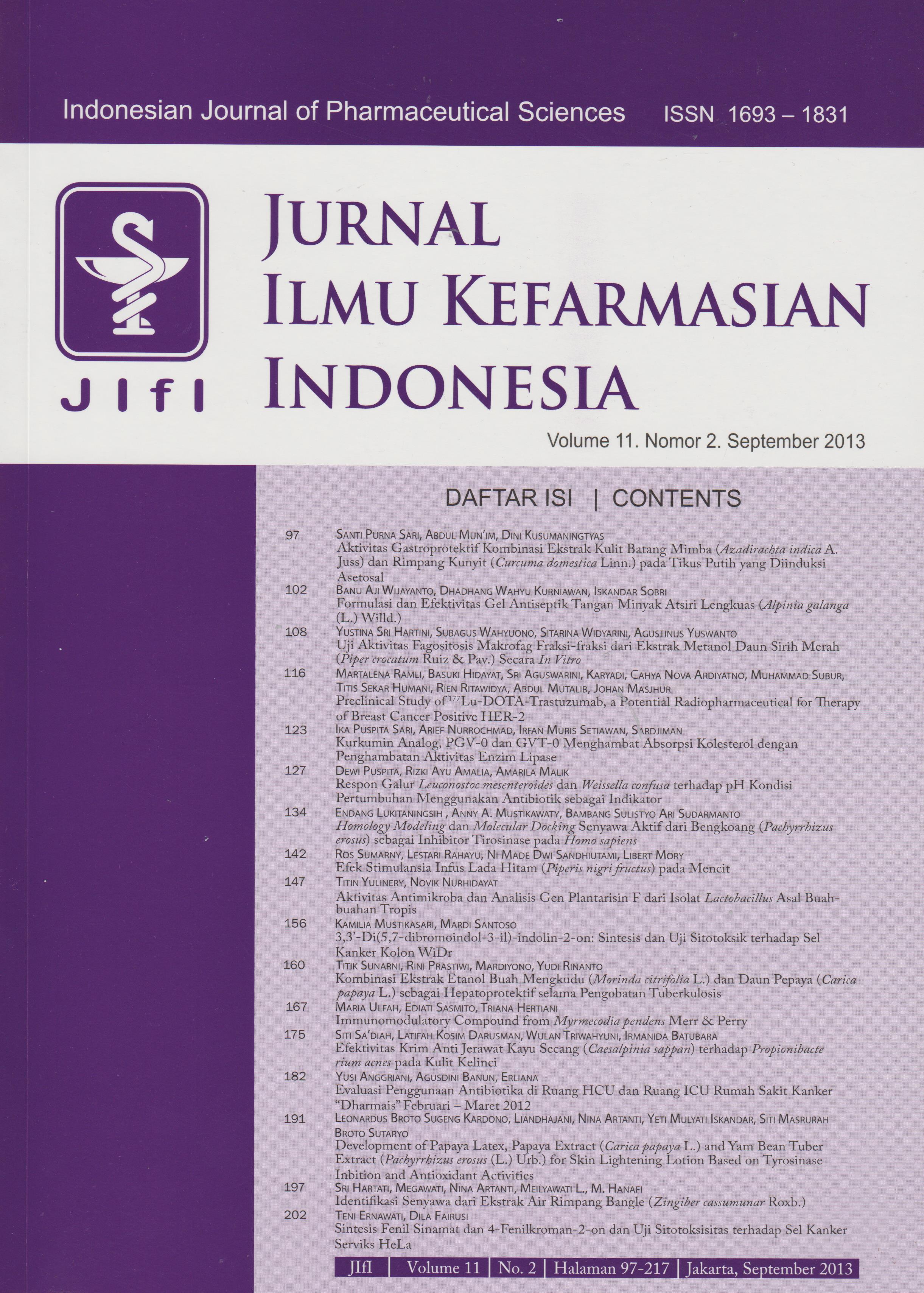 How to Cite
KARDONO, LEONARDUS BROTO SUGENG et al. Development of Papaya Latex, Papaya Extract (Carica papaya L.) and Yam Bean Tuber Extract (Pachyrrhizus erosus (L.) Urb.) for Skin Lightening Lotion Based on Tyrosinase Inhibition and Antioxidant Activities.
JURNAL ILMU KEFARMASIAN INDONESIA
, [S.l.], v. 11, n. 2, p. 191-196, sep. 2013. ISSN 2614-6495. Available at: <
http://jifi.farmasi.univpancasila.ac.id/index.php/jifi/article/view/215
>. Date accessed: 22 mar. 2023.
Licence
Copyright @2017. This is an open-access article distributed under the terms of the Creative Commons Attribution-NonCommercial-ShareAlike 4.0 International License (http://creativecommons.org/licenses/by-nc-sa/4.0/) which permits unrestricted non-commercial used, distribution and reproduction in any medium

This work is licensed under a Creative Commons Attribution-NonCommercial-ShareAlike 4.0 International License.