Identification of Compounds in Water Extract of Bangle Rhizome (Zingiber cassumunar Roxb.)
SRI HARTATI

LEMBAGA ILMU PENGETAHUAN INDONESIA

MEGAWATI MEGAWATI

LEMBAGA ILMU PENGETAHUAN INDONESIA

NINA ARTANTI

LEMBAGA ILMU PENGETAHUAN INDONESIA

MEILYAWATI L.

LEMBAGA ILMU PENGETAHUAN INDONESIA

M. HANAFI

LEMBAGA ILMU PENGETAHUAN INDONESIA
Abstract
In a preliminary study on search of marker compounds from raw material phytopharmaceutical water extracts of medicinal herbs bangle (Zingiber casumunar Roxb.) three compounds, namely (E)-4-(3',4'-dimethoxyphenyl)but-3-en-1-yl acetate (1), (E)-4(3',4'-dimethoxyphenyl) but-3-en-1-1-ol (2) and 2-Methoxy-8-(3,4-dimethoxyphenyl)-1,4-napthoquinone (3) had been found. The isolation was done by partition and combination of chromatography techniques. The isolated pure compound was analyzed by spectroscopy methods of NMR proton and carbon one and two-dimensional, LC-MS and IR-spectrophotometry IR
References
1. Bangle (Zingiber cassumunar Roxb.), diakses dari www.asiamaya.com. file:///E:/Bangle/TOGA(tanaman%20obat%20Indonesia).htm. diakses tahun 2012.
2. Jitoe A, Masuda T, Nakatani N. Phenylbutanoid dimers from the rhizomes of Zingiber cassumunar. Phytochemistry. 1993. 32(2):357-62.
3. Masuda T, Jittoe A. Phenylbutenoid monomers from the rizhomes of Zigiberis cassumunar. Phytochemistry. 1995. 39(2):459-61.
4. Nagano T, Oyama Y, Kajita N, Chikahisa L, Nakata M, Okazaki E, Masuda T. Japan J Pharmacol. 1997.75: 363-70.
5. Jeenapongsa R, Yoovatroworn K, Sriwwtanakul KM, Pongparyoon U, Sriwatanakul K. Anti-inflammatory activity of (E)-1-(3,4-dimethoxyphenyl) butadiene from Zingiber cassumunar Roxb. J Etnopharmacol. 2003.87 (2-3):143-8.
6. Han AR, Min HY, Tri W, Jeohn GH, Jang DS, Lee SK, Seo EK. A new cytotoxic phenylbutanoid dimer from rhizomes of Zingiberis cassumunar. Letter Planta Med. 2004.70:1095-97.
7. Lee JW, Min HY, Han AR, Chung H J, Park EJ, Park HJ, Hong JY, Seo EK, Lee SK. Growth inhibition and induction of G1 phase cell cycle arrest in human lung cancer cell by a phenylbutenoid dimer isolated from Zingiber cassumunar. Biol Farm Bul. 2007.30 (8):1561-4 .
8. Pithanayanukul P, Tubprasert J, Wuthi-Undomlert M. In vitro antimicrobial activity of Zingiber cassumunar (plai) oil and a 5% plai oil gel. Phytother Res. 2007. 21(2):164-9.
9. Nakamura S, Iwami J, Matsuda H, Wakayama H, Popiriyadacha Y, Yoshikawa M. Structure of new phenylbutanoids and nitric oxide production inhibitors from the rhizomes of Zingiber cassumunar. Chem Pharm Bull. 2009.57(11):1267–72.
10. Matsuda H, Nakamura S, Iwami J, Xuezheng Li, Pongpiriyadacha Y, Nakai M, Kubo M, Fukuyama Y, Yshikawa M. Invasions inhibitor of human fibrosarcoma HT 1080 cells from the rhizome of Zingiber cassumunar: Structure of phenylbutanoids, cassumanols. Chem Pharm Bull. 2011.59(3):365-70.
11. Kamazeri AST, Othman AbdS, Taher M, Susanti D, Qarraleh H. Antimicrobial activity and essential oils of Curcuma aeruginosa, Curcuma mangga and Zingber cassumunar from Malaysia. Asian Pacific Journal of Tropical Medicine. 2012. 202-9
12. Pavia DL, Lampman GM, Kriz GS. Introduction to Spectroscopy. USA: Thomson Learning; 2001.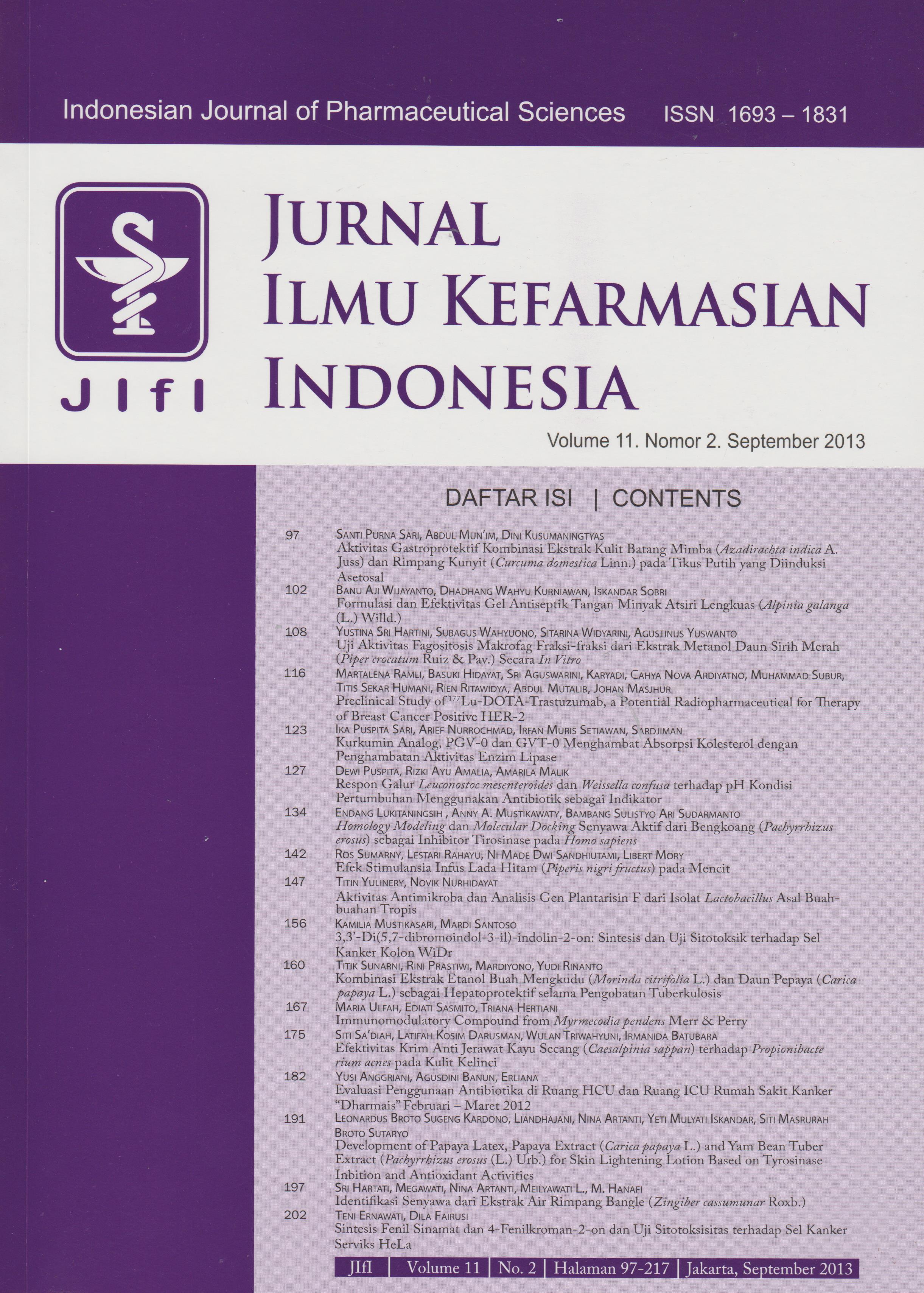 Licencing
All articles in Jurnal Ilmu Kefarmasian Indonesia are an open-access article, distributed under the terms of the Creative Commons Attribution-NonCommercial-ShareAlike 4.0 International License which permits unrestricted non-commercial used, distribution and reproduction in any medium.
This licence applies to Author(s) and Public Reader means that the users mays :
SHARE:
copy and redistribute the article in any medium or format
ADAPT:
remix, transform, and build upon the article (eg.: to produce a new research work and, possibly, a new publication)
ALIKE:
If you remix, transform, or build upon the article, you must distribute your contributions under the same license as the original.
NO ADDITIONAL RESTRICTIONS:
You may not apply legal terms or technological measures that legally restrict others from doing anything the license permits.
It does however mean that when you use it you must:
ATTRIBUTION: You must give appropriate credit to both the Author(s) and the journal, provide a link to the license, and indicate if changes were made. You may do so in any reasonable manner, but not in any way that suggests the licensor endorses you or your use.
You may not:
NONCOMMERCIAL: You may not use the article for commercial purposes.
This work is licensed under a Creative Commons Attribution-NonCommercial-ShareAlike 4.0 International License.