Antimalarial Activity of Cempaka Kunig Stembark Extracts Against Plasmodium Falciparum 3D7
NI PUTU ARIANTARI

UNIVERSITAS UDAYANA

NI LUH RUSTINI

UNIVERSITAS UDAYANA

LIDYA TUMEWU

INSTITUTE OF TROPICAL DISEASE

ACHMAD FUAD HAFID

UNIVERSITAS AIRLANGGA

ATY WIDYAWARUYANTI

UNIVERSITAS AIRLANGGA
Abstract
Cempaka kuning (Michelia champaca) which is belongs to Magnoliaceae family, has been traditionally used for treatment fever. This research was conducted to evaluate antimalarial activity of Cempaka kuning stembark extract against Plasmodium falciparum 3D7 in vitro. Cempaka kuning stembark was extracted with n-hexane, chloroform and methanol yielded n-hexane extract, chloroform extract and methanol extract, followed by antimalarial activity assay of these extracts. Phytochemical screening showed that n-hexane extract contain volatile oil and terpenoids, chloroform extract contain Volatile oil, terpenoids and fiavonoids, then methanol extract contain volatile oil, terpenoids, flavonoids, tannins and glycosides. Result of this study also showed that n-hexane extract, chloroform extract and methanol extract were active against P. alciparum 3D7 in vitro, with an IC50 value of 0.36, 0.24 and 1.00 µg/mL. The findings indicate that Cempaka kuning stembark extracts possess strong antimalarial activity and are prospective to be developed as antimalarial.
References
1. WHO. World malaria report 2005. 2005. diambil dari: URL:http://Www.globalpolicy.org.
2. Kementerian Kesehatan RI. Epidemiologi malaria di Indonesia. Buletin J endela Data dan Informasi Kesehatan. 2011. 1:29-30.
3. Bloland, PB. Drug resistence in malaria. Geneva: WHO Switzerland; 2001.
4. Jarald, EE, Joshi, SB, Jain, DC. Antidiabetic activity of liower buds of Michelia champaca Linn. Indian J. Pharmacol. 2008. 40(6):256-60.
5. Gupta, S, Mehla, K, Chauhan, D, Nair, A. Antiinflammatory activity of leaves of Michelia champaca investigated on acute inflammation induced rats. Lat. Am. J. Pharm. 2011. 30(4): 819-22.
6. Khan MR, Kihara M, Omoloso AD. Antimicrobial activity of Michelia champaca. Fitoterapia. 2002. 73:744-8.
7. Departemen Kesehatan RI. Materia Medika Indonesia V. Jakarta: Departemen Kesehatan Republik Indonesia; 1989. 549-53.
8. Evans WC and Evans D. Pharmacognosy. 15th Ed. Philadelphia: Saunders; 2002. 223-337.
9. Jones WP and Kinghorn AD. Extraction of plant secondary metabolites. In: Sarker SD, Latif Z, Gray AI, editors. Natural Products Isolation. 2nd Ed. New Jersey: Humana Press; 2006.
10. Budimulja AS, Syafruddin, Tapchaisri P, Wilariat P, Marzuki S. The sensitivity of Plasmodium protein synthesis to prokaryotic ribosomal inhibitors. J Mol Biochem Parasitol. 1996. October:137-41.
11. Mabry TJ, Markham KR, Thomas MB. The systematic identification of havonoids. New York-Heidelberg-Berlin: Springer-Verlag; 1970. 227-41.
12. Sharifa AA, Jamaludin J, Kiong LS, Chia LA, Osman K. Anti-urolithiatic terpenoid compound from Piantago major Linn.(ekor anjing). Sains Malaysiana. 2012. 41(1):33-9.
13. Kohler I, Siems J , Siems K, Hemandes MA. In vitro antiplasmodial investigation of medicinal plants from El Savador. J . Bioscience. 2002. 57:277-8.
14. Andrade-Neto VFA, Pohlit AM, Pinto ACS, Silva ECC, Nogueira KL, Melo MRS. In vitro inhibition of Plasmodium falciparum by substances isolated from Amazonian antimalarial plants. Rio de Janeiro. 2007. 102(3):359-65.
15. Widyawaruyanti A, Subehan, Kalauni SK, Awale S, Nindatu M, Zaini NC, et al. New prenylated ilavones from Artocarpus champeden SPRENG. and their antimalarial activity In Vitro. J. Nat. Med. 2007. 61:410-3.
16. Lee MR. Plants against malaria part 2: Artemisia annua (qinghaosu or the sweet wormwood). The Journal of The Royal Collage of Physicians of Edinburgh. 2002. 32:300-4.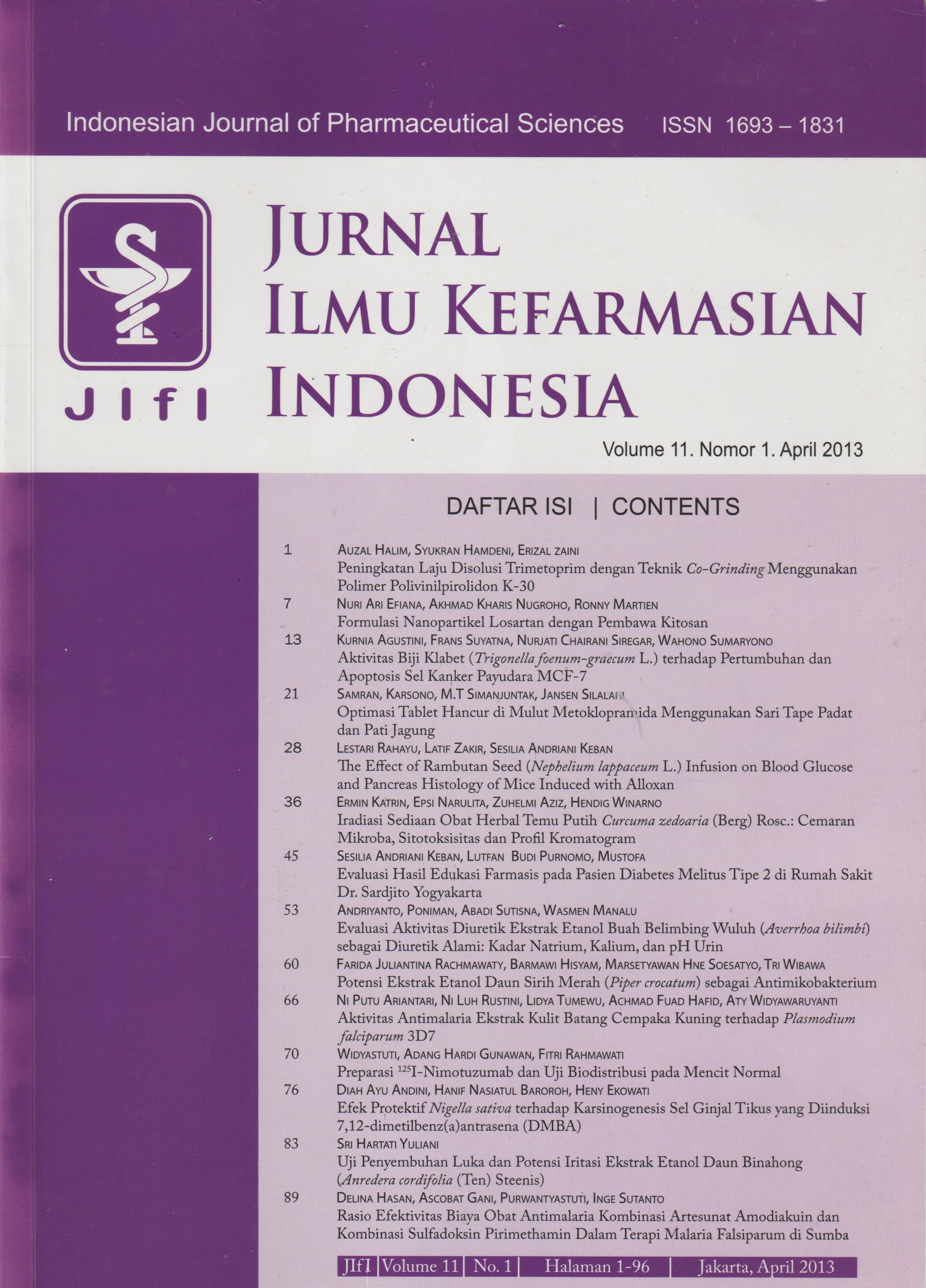 Licence
Copyright @2017. This is an open-access article distributed under the terms of the Creative Commons Attribution-NonCommercial-ShareAlike 4.0 International License (http://creativecommons.org/licenses/by-nc-sa/4.0/) which permits unrestricted non-commercial used, distribution and reproduction in any medium

This work is licensed under a Creative Commons Attribution-NonCommercial-ShareAlike 4.0 International License.