Analysis of Drug Related Problems in Five Hospital Conducted in 2010
MAX JOSEPH HERMAN

NATIONAL INSTITUTE OF HEALTH RESEARCH AND DEVELOPMENT REPUBLIC OF INDONESIA

IDA DIANA SARI

NATIONAL INSTITUTE OF HEALTH RESEARCH AND DEVELOPMENT REPUBLIC OF INDONESIA
Abstract
Drug prescribing and drug use become more complex, as the number and potency of available drugs increase, leading to a variety of Drug Related Problems (DRPs). From 15 studies conducted in several countries, 7.1% of the overall hospital admissions were related to DRPs and 59% of them might be prevented. For the last few decades, attention to DRPs in some countries like USA, Australia and England have increased. A study on pediatric inpatients was carried out in 2007 by monitoring medical records detected nearly 60% DRPs with an average of 3 DRPs per patient and other study done showed that more than 78% of geriatric patients had in average 3 DRPs. A retrospective study to identify morbidities related to DRPs has been conducted in 2010 in 5 hospitals having clinical pharmacy unit. Data were collected from medical records or clinical pharmacy documents and interviews with the head of pharmacy unit and clinical pharmacist. DRPs data were then analyzed and categorized according to a combination of American Society of Hospital Pharmacists (ASHP) and Pharmaceutical Care Network of Europe (PCNE) classifications. Results of the study revealed that there were 266 DRPs identified with an average of two DRPs per patient and anti-infection drugs were mostly involved. Duration of a treatment longer than necessary was found in 17.3% cases and had resulted in high cost drug treatment (32.7%), whilst poly-pharmacy, inappropriate drug form and new indication for drug treatment presented were hardly found. Pharmacist was the most likely who made intervention in DRPs (61.3%) and 48,9% intervention was proposed, but was rejected by prescriber.
References
1. Howard RI, et al. Investigation into the reasons for preventable drug related admissions to a medical admission unit: observational study. Qual Saf Health Care. 2003.12:280-5.
2. Chan DC, et al. Drug-related problems (DRPs) identiiied from geriatric medication safety review clinics. Archives of Gerontology and Geriatrics. 2012. 54:168-74.
3. Montastruc JL, et al. Pharrnacovigilance for evaluating adverse drug reactions: value, organization and methods. Joint Bone Spine. 2006. 73: 629-32. 4. Cousins D. Current status of the monitoring of medication practice. American Journal of HealthSystem Pharmacy. 66.5 (2009):S49+.
5. FIP. FIP Statement of Policy, The role of the pharmacist in pharmacovigilance. 2006.
6. Drug and Therapeutics Committees. A Practical Guide. World Health Organization; 2003.
7. Kaushal R, et al. Unit-based clinical pharmacists' prevention of serious medication errors in pediatric inpatients. Am J Health Syst Pharm. 2008.65: 1254-60.
8. Ully AM. Identifikasi permasalahan yang terkait dengan terapi obat pada pasien pediatri rawat inap di RSUPN Dr Cipto Mangunkusumo [Tesis]. Depok: Universitas Indonesia; 2007.
9. Arsyanti L. Identifikasi masalah terkait dengan obat pada pasien geriatri di bangsal rawat inap B RS Dr Cipto Mangunkusumo [Tesis]. Depok: Universitas Indonesia; 2006.
10. Strand LM, Morley PC, Cipolle RJ, Ramsey R, Lamsam GD. Drug-related problems : their structure and function. DlCP. 1990. 24:1093-7.
11. Pharmaceutical Care Network Europe. Classification for Drug Related Problems/DRPs-Classification V6.2. Available from http: /www.PCNE .org. Cited on April 1, 2010.
12. Wang 1K, Herzog NS, Kaushal R, Park C, Mochizuki C, Weingarten SR. Prevention of pediatric medication errors by hospital pharmacists and the potential benefit of computerized physician order entry. Pediatrics. 2007. e77-e85.
13. Prot S, Fontan JE, Alberti C, Bourdon O, Famoux C, Macher MA, Foureau A, Faye A, Beaufils F, Gottot S, Brion F. Drug administrasion errors and their determinants in pediatric in-patients. int. J. Qual. Health. Care. 2005.17(5):381-9.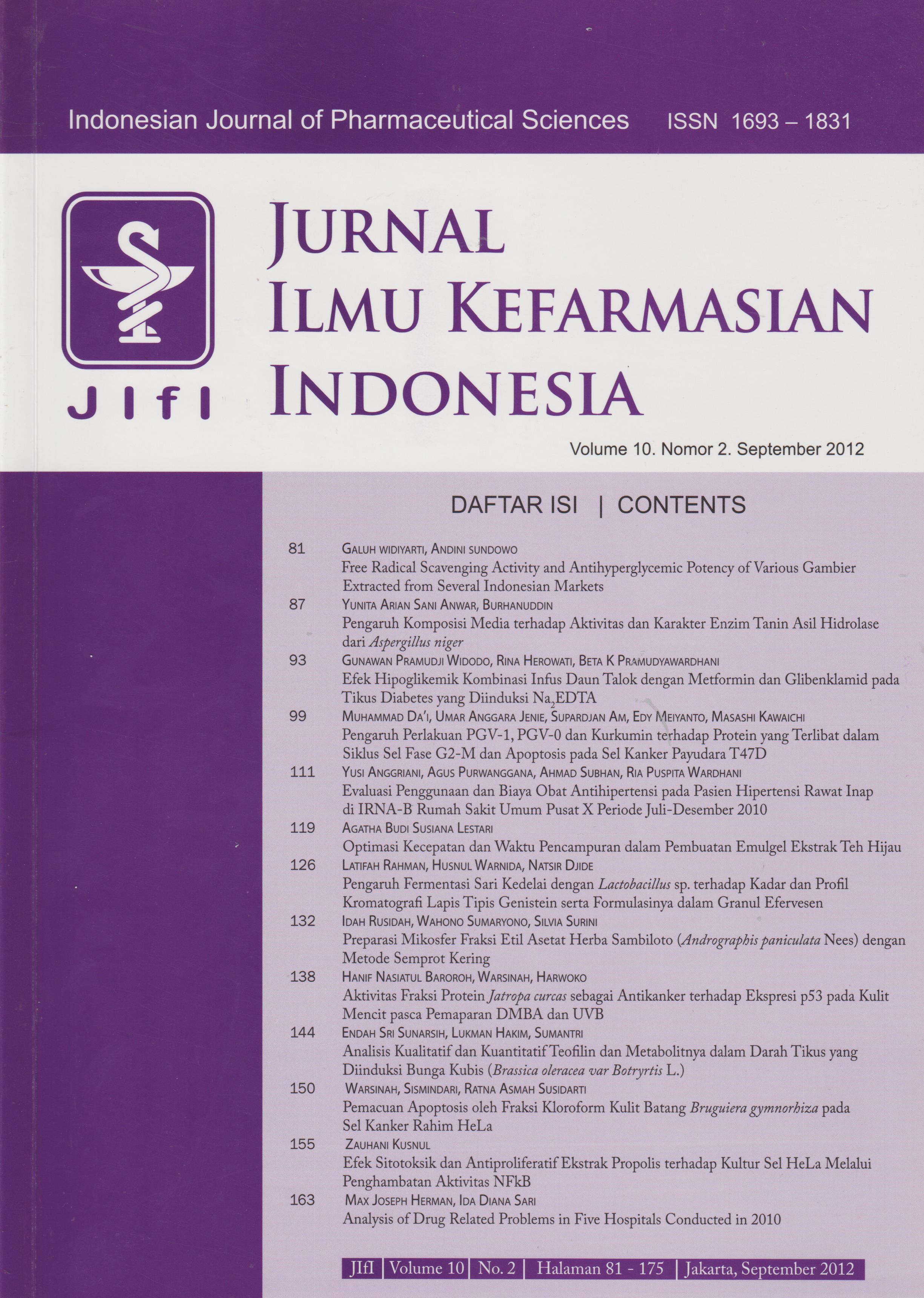 Licence
Copyright @2017. This is an open-access article distributed under the terms of the Creative Commons Attribution-NonCommercial-ShareAlike 4.0 International License (http://creativecommons.org/licenses/by-nc-sa/4.0/) which permits unrestricted non-commercial used, distribution and reproduction in any medium

This work is licensed under a Creative Commons Attribution-NonCommercial-ShareAlike 4.0 International License.