Isolasi Senyawa Aktif dari Ekstrak Hipokotil Sarang Semut (Myrmecodia pendens Merr. & Perry) sebagai Penghambat Xantinoksidase
PARTOMUAN SIMANJUNTAK

LEMBAGA ILMU PENGETAHUAN INDONESIA

FANNY FANNY

LEMBAGA ILMU PENGETAHUAN INDONESIA

MUHAMMAD AHKAM SUBROTO

LEMBAGA ILMU PENGETAHUAN INDONESIA
Abstract
Medicinal plant called "sarang semut", Myrmecodia pendens Merr. & Perry (Rubiaceae), is an epiphyt plant traditionally used in Papua for healing various diseases such as hyperuricemia, rheumatic, and cancer. A chemical compound recognized as xanthinoxidase inhibitor has been isolated from n-buthanol fraction of the plant extract. The isolation was carried out by column chromatography (SiO2, CHCI3-MeOH = 5:1-1:1) and the purification Was conducted using high pressure liquid chromatography (RP, C-18; MeOH-water = 5 : 1). The activity test for Xanthinoxidase inhibitor Was performmed by using modilied Noro method. The pure compound showed xanthinoxidase inhibitor activity of IC50  at 79,77%.
References
1. Departemen Kesehatan Republik Indonesia. Materi medika Indonesia. Jakarta: Depkes RI. 1995. hal. 167.

2. Fajri FA, Rachman AA. Menyibak misteri rumah Sang Koloni. Natural. 2006.15:15-7.

3. Rachman AA. Senyawa aktif bersarang di sarang semut. Natural. 2006. 15: 18-20.

4. Huxley CR, J ebb MHP. The tuberous epiphytes of the Rubiaceae 5: A revision of Myrmecodia. Blumea.
1993.37(2):232.

5. Owen PR, Johns T. Xanthine Oxidase inhibitory activity of Northeastern North American plant remedies used for gout. J Ethno Pharm. 1999.64:149-53.


6. Gonzalez AG, Bazzochi, Gupta MP. Xanthine oxidase inhibitory activity of some Panamanian plants from Celastraceae and Laminaceae. J Ethnopharmacology. 1995.46:25-9.

7. Tsutomi N, Masatoshi N, Akira I. Two new poten inhibitors ofxanthine oxidase from leaves of Perilla jifustencens Britten, var. Acuta Kudo. Chem & Pharm. Bull. 1990.38(6):1772-74.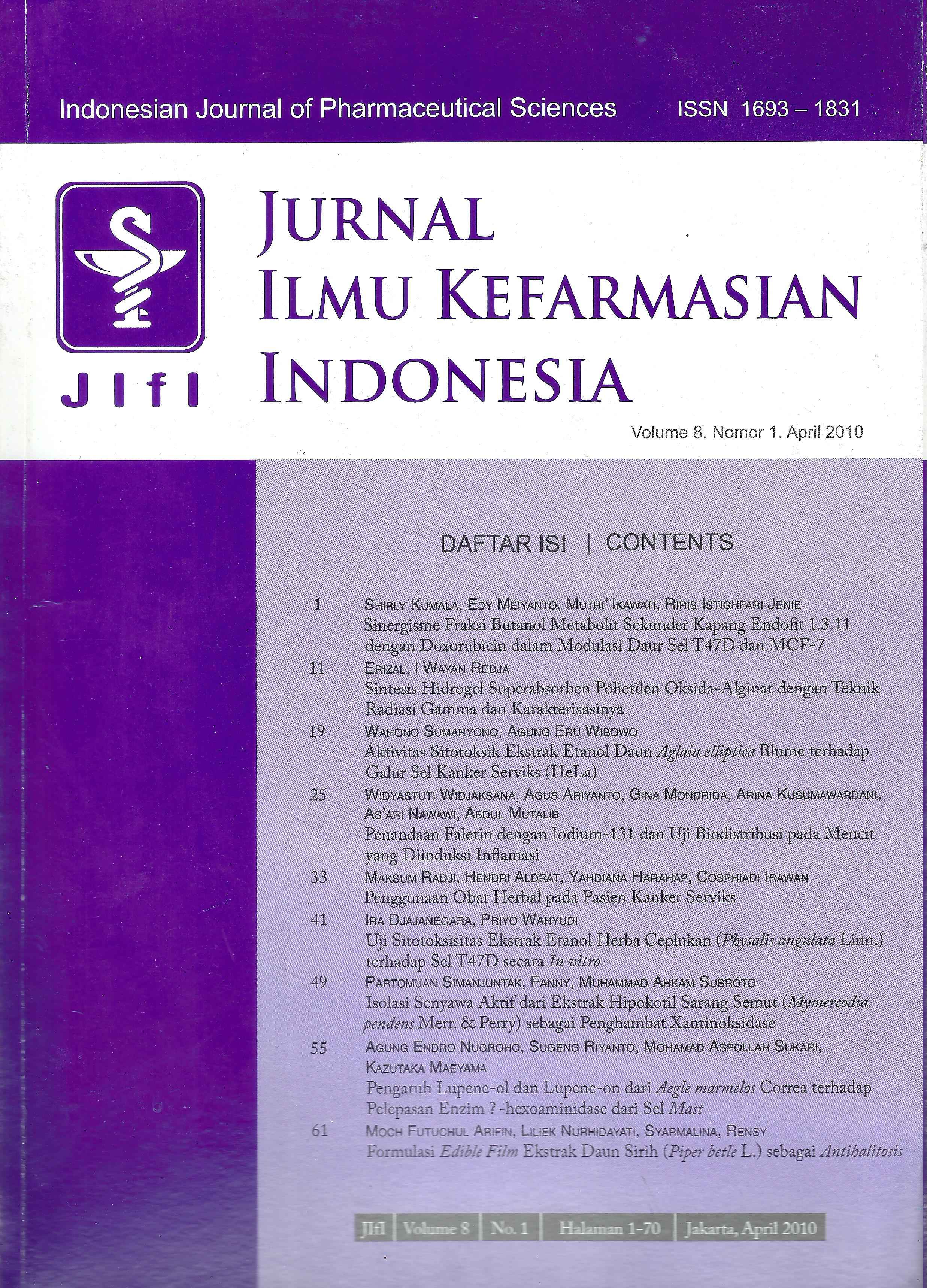 How to Cite
SIMANJUNTAK, PARTOMUAN; FANNY, FANNY; SUBROTO, MUHAMMAD AHKAM. Isolasi Senyawa Aktif dari Ekstrak Hipokotil Sarang Semut (Myrmecodia pendens Merr. & Perry) sebagai Penghambat Xantinoksidase.
JURNAL ILMU KEFARMASIAN INDONESIA
, [S.l.], v. 8, n. 1, p. 49-54, apr. 2010. ISSN 2614-6495. Available at: <
http://jifi.farmasi.univpancasila.ac.id/index.php/jifi/article/view/366
>. Date accessed: 30 may 2023.
Licence
Copyright @2017. This is an open-access article distributed under the terms of the Creative Commons Attribution-NonCommercial-ShareAlike 4.0 International License (http://creativecommons.org/licenses/by-nc-sa/4.0/) which permits unrestricted non-commercial used, distribution and reproduction in any medium

This work is licensed under a Creative Commons Attribution-NonCommercial-ShareAlike 4.0 International License.