Technetium-99m-Human IgG Radiopharmaceuticals: Preparation, Biodistribution and Infection Imaging in Mice
WIDYASTUTI WIDJAKSANA

PUSAT RADIOISOTOP dan RADIOFARMAKA ATOM NASIONAL (BATAN)

ANNA ROSELIANA

PUSAT RADIOISOTOP dan RADIOFARMAKA ATOM NASIONAL (BATAN)

AGUS ARIYANTO

PUSAT RADIOISOTOP dan RADIOFARMAKA ATOM NASIONAL (BATAN)

SRI AGUSWARINI

PUSAT RADIOISOTOP dan RADIOFARMAKA ATOM NASIONAL (BATAN)

MARIALINA MARIALINA

PUSAT APLIKASI TEKNOLOGI ISOTOP dan RADIASI PATIR-BATAN

GINA MONDRIDA

PUSAT RADIOISOTOP dan RADIOFARMAKA ATOM NASIONAL (BATAN)
Abstract
Technetium-99m-Immunoglobulin-G preparation and analysis were carried out using human immunoglobulin-G (IgG) which was conjugated with hydrazinonicotinamide (HYNIC) prior to labeling with technetium-99m (99mTc), and the HYNIC-IgG molecules were stabilized with a co-ligand, tricine. Tricine was prepared both in the form of lyophilized kits and in frozen solutions and their stabilities were compared. The effect of pH on the labeling efhciency was also studied. Characterization of native IgG as well as the radiolabeled IgG were carried out using size exclusion HPLC, whereas the labeling efficiency of 99mTc-HYNIC-IgG was determined using thin layer and paper chromatographic methods. The stability of radiolabeled 99mTc-HYNIC-IgG at room temperature as well as in human serum were investigated by observing the radiochemical purity within 4 hours in vitro. The shelf-life of Lmlabeled HYNIC-IgG stored at -40°C and tricine kits stored at 4°C were determined. Biodistribution of 99mTc- HYNIC-IgG in healthy mice and in infection-induced mice and rats were also studied. The HPLC results showed that the native and radiolabeled IgG had similar retention times, which indicated that conjugation and radiolabeling processes did not affect the integrity of the IgG molecules. The radiochemical purity of 99mTc-HYNIC-IgG was high - more than 90% - without purification step, and the preparation was stable up to 4 hours. Tricine kits prepared at pH 3 was proven to produce clear solution and high labeling yield, while pH 4 produced slight opalescence solution which turned to turbid after a few hours. Biodistribution studies in healthy mice showed an obvious uptake in liver but normal distribution in other tissues, while biodistribution in infection-induced mice showed significantly different uptake between infected tissues, i.e higher than normal tissues. Blood clearance was achieved within 2 hours and excretion via urine and faeces were observed within 24 hours. It is concluded that the preparation using human IgG showed high uptake in the infection site, and the 99mTc-HYNIC-IgG can be a promising radiopharmaceutical for infection or inflammation imaging.
References
1. Buscombe JR, Oyen WJG, Grant A, Claesens RAMJ, Meer VD, Corstens FHM, et al. lndium- 111 -labeled polyclonal human immunoglobulin: identifying focal infection in patients positive for human immunodeficiency virus. J. Nucl. Med. 1993. (34):1621-25.

2. Ikatan Sarjana Farmasi Indonesia. Informasi spesialite obat Indonesia. Edisi 42. Jakarta: Penerbit Ikatan Sarjana Farmasi Indonesia; 2007. hal. 135.

3. Rose NR, Milgrom F, Van CJ. Principles of immunology. 2nd ed. MacMillan Publishing Co. Inc.; 1979.p.41-63

4. Mishra P, Singh AK, Chauhan M, Bhatnagar A, Kashyap R, Chauhan UPS. A novel method for labeling human Immunoglobulin-G with 99mTc suitable for inflammation scintigraphy. Nucl. Med. Comm. 1994.(15):723-9.

5. Dams ETM, Oyen WJG, Boennan OC, Claessens RAMJ, Wymenga AB, Meer JWMVD, Corstens FHM. Technetium-99m labeled to human immunoglobulin-G through the nicotynil hydrazine derivative: a clinical study. J. Nucl. Med. 1998. (39):119-24.

6. Stephen JM. Radiolabelled antibody and peptides In: Sampson CB. Textbook of radiopharmaceuticals: theory and practices. 3rd ed. 1999.p.63-82.

7. Prvulovich EM, Miller RF, Costa DC, Severn A, Corbett E, Bomanji J, et al. Immunoscintigraphy with a 99mTc-labeled anti granulocyte monoclonal antibody in patients with human immunodeficiency virus infection and AIDS. Nucl. Med. Comm. 1995. (16):838-45.

8. O`Doherty MJ, Nunan TO. Nuclear medicine and AIDS. Nucl. Med. Comm. 1993.(14):830-48.

9. Khalkali I, Mena I, Rauh DA, et al. 111In-DTPA- Immunoglobulin-G lung imaging in patients with pulmonary and HIV infection. Chest. 1995.107(5):1336-41,

10. White A, Handler P, Smith EL. Principles of biochemistry. 5th ed. Kogakusha: McGraw Hill Ltd.; p.90-108.

11. Widyastuti, Gina M, Anna R. Preparasi 99mTc- HYNIC-imunoglobulin-G sebagai radiofarmaka untuk pencitraan infeksi/inflamasi. Prosiding Seminar Nasional Sains dan Teknologi Nuklir PTNBR- BATAN. Bandung 17-18 Juli, 2007:268-74.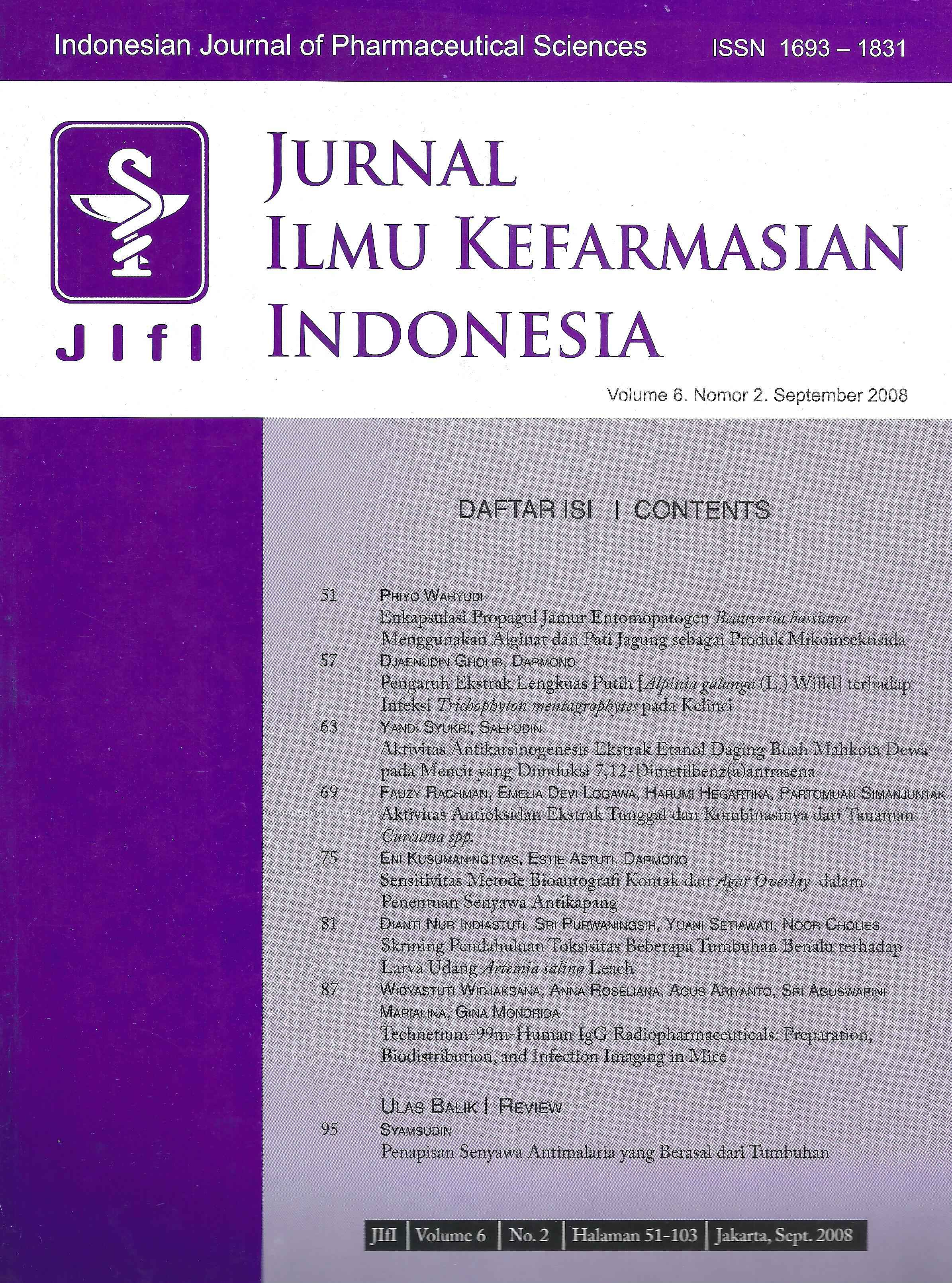 Licence
Copyright @2017. This is an open-access article distributed under the terms of the Creative Commons Attribution-NonCommercial-ShareAlike 4.0 International License (http://creativecommons.org/licenses/by-nc-sa/4.0/) which permits unrestricted non-commercial used, distribution and reproduction in any medium

This work is licensed under a Creative Commons Attribution-NonCommercial-ShareAlike 4.0 International License.