Sintesis Hidrogel Poli(N-Vinil-2-Pirolidon-Asam Tartrat) secara Iradiasi Gamma dan Karakterisasinya
SWASONO R. TAMAT

PUSAT RADIOISOTOP dan RADIOFARMAKA ATOM NASIONAL (BATAN)

ERIZAL ERIZAL

PUSAT APLIKASI TEKNOLOGI ISOTOP dan RADIASI PATIR-BATAN

CHAIRIL GUNAWAN

UNIVERSITAS PANCASILA
Abstract
Synthesis of poly(N-vinyl pyrolidone-g-tartaric acid) hydrogel using gamma irradiation had been carried out in two steps. First, irradiation of various concentrations of N-vinyl pyrolidone (NVP) byvarious irradiation doses. The yield of this process was determined by a gravimetric method. Hydrogel with the highest yield was selected for the second step: immersion in various concentrations of tartaric acid (TA) solution followed by irradiation. The yield (grafting percentage) was indirectly determined by a titrimetric method. All hydrogels were tested for their swelling ability (%) in solution of Various pH. The results showed that both NVP concentration and irradiation dose, and also interaction of the two, influenced the yield (gel fraction). The highest gel fraction (99.52%) was obtained from 70% NVP and 40 kGy dose. The result also showed that both TA concentration and irradiation dose, as well asinteraction of the two, influenced the grafting percentage. The highest grafting percentage (42.03%) was obtained by 0.8% TA and 40 kGy dose; while this hydrogel swelled 44.41 times in a pH 8 solution and swelled 42.2 times in a saline solution. The swelling capacity was slightly higher than the SNI 16- 6363-2000 requirement for sanitary napkins, however, lower than the ISO 17190-5-2001 requirement for baby napkins.
References
1. Badan Standarisasi Nasional. SNI 16-6363-2000. Pembalut wanita. Jakarta: Badan Standarisasi Nasional Indonesia; 2000.

2. Diaper: http://enwikipedia.org/Wiki/Diaper. diakses 10 Mei, 2006.

3. Rosiak JM. Hydrogel dressing HDR, radiation effect on polymer. Washington D.C: ACS; 1991. p. 118-20.

4. Anonym. Hydro gel: speciality plastic for biomedical and pharmaceutical application. New York: Academic Press; 1989. p. 17-47
5. Kroschwitz J. Polymer: biomaterials and medical application. New York: John Wiley and Sons Inc; 1992. p. 228-48.

6. Rahway NJ. The merck index. 10th ed. Merck & Co. Inc; 1983. p. 1106.

7. Florey K. Analytical profiles of drug substances & excipients vol. 22. California: Academic Press Inc.; 1993. p. 562.

8. Cengiz O, Tuncer C. Radiation synthesis of poly(N-vinyl-2-pyrrolidone-g-tartaric acid) hydrogels and their swelling behaviors. Gazi University; 2002.

9. lnternational Organization of Standarization. ISO 17190-5. Urine absorbing aids for incontinence-test methods for characterizing polymer based absorbent materials. Geneva; 2001.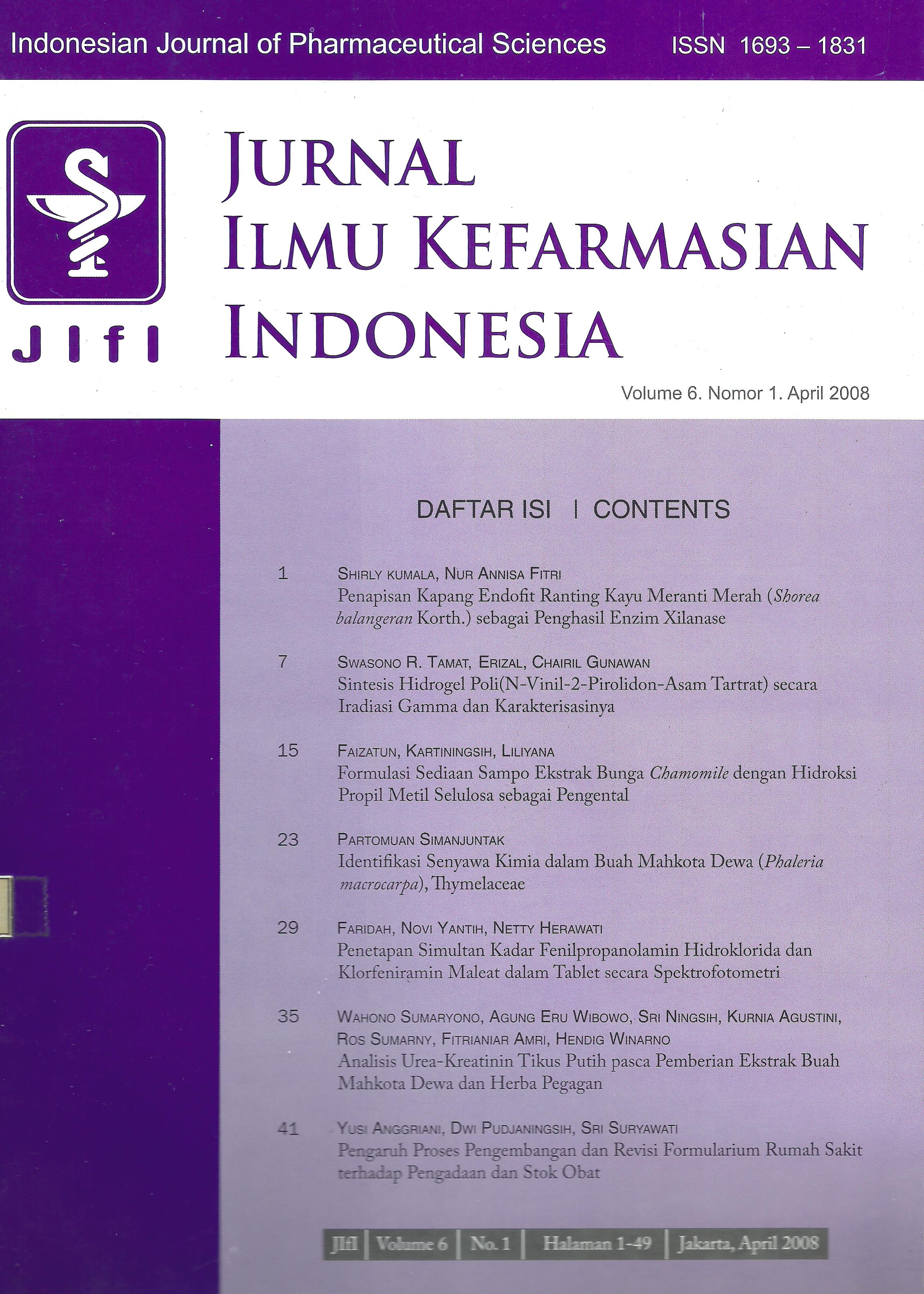 How to Cite
TAMAT, SWASONO R.; ERIZAL, ERIZAL; GUNAWAN, CHAIRIL. Sintesis Hidrogel Poli(N-Vinil-2-Pirolidon-Asam Tartrat) secara Iradiasi Gamma dan Karakterisasinya.
JURNAL ILMU KEFARMASIAN INDONESIA
, [S.l.], v. 6, n. 1, p. 7-14, apr. 2008. ISSN 2614-6495. Available at: <
http://jifi.farmasi.univpancasila.ac.id/index.php/jifi/article/view/411
>. Date accessed: 29 nov. 2023.
Licencing
All articles in Jurnal Ilmu Kefarmasian Indonesia are an open-access article, distributed under the terms of the Creative Commons Attribution-NonCommercial-ShareAlike 4.0 International License which permits unrestricted non-commercial used, distribution and reproduction in any medium.
This licence applies to Author(s) and Public Reader means that the users mays :
SHARE:
copy and redistribute the article in any medium or format
ADAPT:
remix, transform, and build upon the article (eg.: to produce a new research work and, possibly, a new publication)
ALIKE:
If you remix, transform, or build upon the article, you must distribute your contributions under the same license as the original.
NO ADDITIONAL RESTRICTIONS:
You may not apply legal terms or technological measures that legally restrict others from doing anything the license permits.
It does however mean that when you use it you must:
ATTRIBUTION: You must give appropriate credit to both the Author(s) and the journal, provide a link to the license, and indicate if changes were made. You may do so in any reasonable manner, but not in any way that suggests the licensor endorses you or your use.
You may not:
NONCOMMERCIAL: You may not use the article for commercial purposes.
This work is licensed under a Creative Commons Attribution-NonCommercial-ShareAlike 4.0 International License.