Formulasi Sediaan Sampo Ekstrak Bunga Chamomile dengan Hidroksi Propil Metil Selulosa sebagai Pengental
FAIZATUN FAIZATUN

UNIVERSITAS PANCASILA

KARTININGSIH KARTININGSIH

UNIVERSITAS PANCASILA

LILYANA LILIYANA

UNIVERSITAS PANCASILA
Abstract
Chamomile (Chamomilla recucita L.) that contain apigenin as an active substance are known as hair-lightening agent. The application of these flowers as such is not convenient, so the incorporation of its extract in shampoos - for cleaning of both scalp and hair - gives a better outcome. In this study, six formulas Were applied, each containing 5% of chamomile extract with different concentrations of HPMC (Methocel® F4M) and other additives. The shampoos were evaluated during a six Week-storage on their physico-chemical properties (pH, viscosity, rheological characteristic at 28-30°C [room temperaturel, 40°C, and 6-7°C [chilled temperature], surface tension, foam-forming in hard and distilled water as Well as sensory properties [discoloration, odor, homo genenity]. The results showed that HPMC of 2% gave an optimum viscosity, no discoloration, no detected change on homogenenity as Well as odor until the end of six-Week storage. The viscosity the shampoo with 2% HPMC at 28-30°C was 2060.00-2080.00 cPs,at 40°C 1040.00-1080.00 cPs, and at 6-7°C 2420.00-2480.00 cPs. Having rheological characteristic of pseudoplastic, the shampoo's surface tension Was 28.99-29.88 dyne/cin, with density ranged 1,0428- 1.0459, pH 6.26-6.34, height of foam in hard Water ranged 3.30-3.45 cm and in distilled 3.40-3.60 cm. The density, surface tension, and pH of the shampoo were in agreement with the requirements. Key words: Hydroxypropyl methyl cellulose, chamomile, shampoo, viscosity.
References
1. Badan Standarisasi Nasional. SNI 16-6363-2000. Pembalut wanita. Jakarta: Badan Standarisasi Nasional Indonesia; 2000.

2. Diaper: http://enwikipedia.org/Wiki/Diaper. diakses 10 Mei, 2006.

3. Rosiak JM. Hydrogel dressing HDR, radiation effect on polymer. Washington D.C: ACS; 1991. p. 118-20.

4. Anonym. Hydro gel: speciality plastic for biomedical and pharmaceutical application. New York: Academic Press; 1989. p. 17-47
5. Kroschwitz J. Polymer: biomaterials and medical application. New York: John Wiley and Sons Inc; 1992. p. 228-48.

6. Rahway NJ. The merck index. 10th ed. Merck & Co. Inc; 1983. p. 1106.

7. Florey K. Analytical profiles of drug substances & excipients vol. 22. California: Academic Press Inc.; 1993. p. 562.

8. Cengiz O, Tuncer C. Radiation synthesis of poly(N-vinyl-2-pyrrolidone-g-tartaric acid) hydrogels and their swelling behaviors. Gazi University; 2002.

9. lnternational Organization of Standarization. ISO 17190-5. Urine absorbing aids for incontinence-test methods for characterizing polymer based absorbent materials. Geneva; 2001.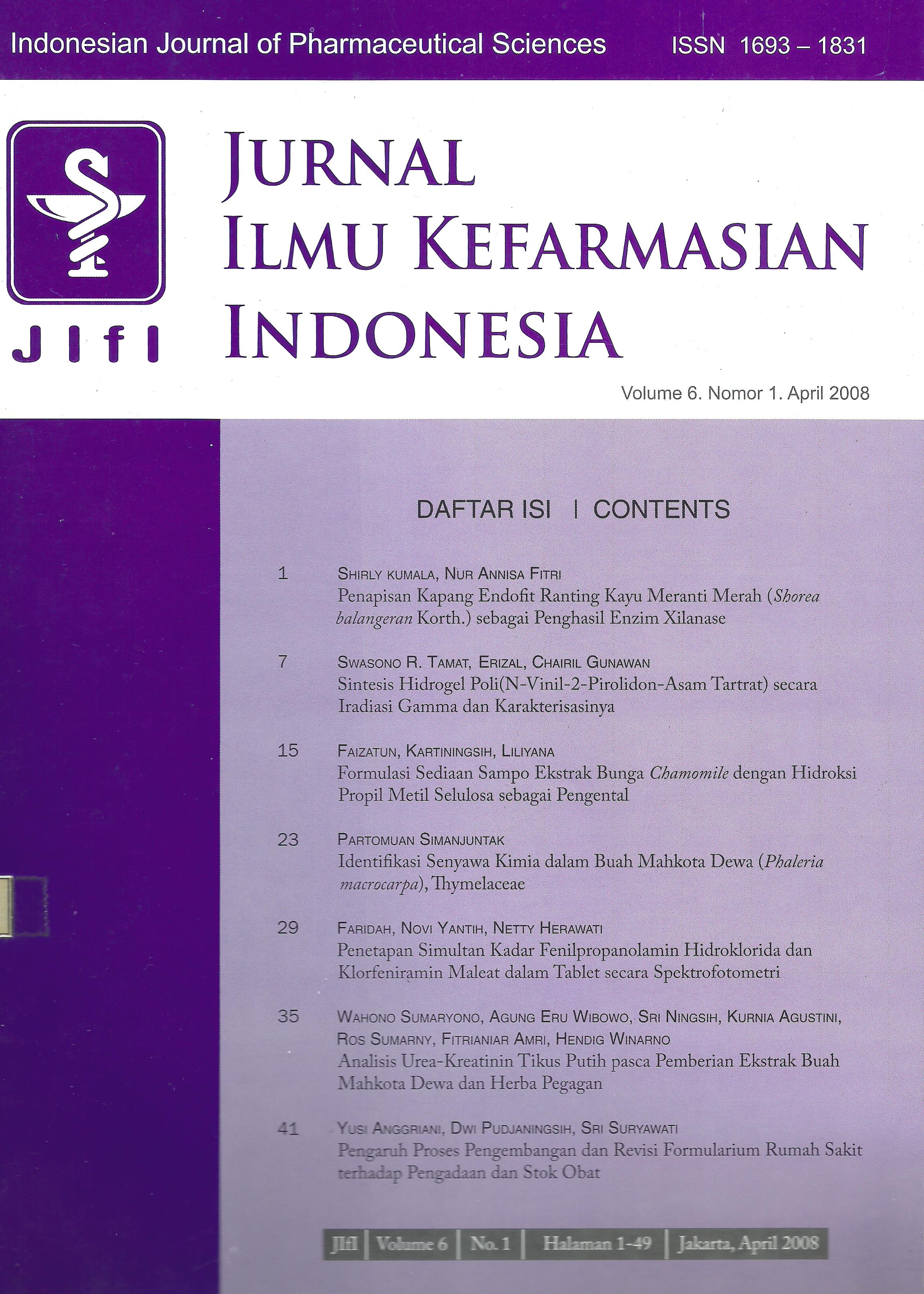 How to Cite
FAIZATUN, FAIZATUN; KARTININGSIH, KARTININGSIH; LILIYANA, LILYANA. Formulasi Sediaan Sampo Ekstrak Bunga Chamomile dengan Hidroksi Propil Metil Selulosa sebagai Pengental.
JURNAL ILMU KEFARMASIAN INDONESIA
, [S.l.], v. 6, n. 1, p. 15-22, apr. 2008. ISSN 2614-6495. Available at: <
http://jifi.farmasi.univpancasila.ac.id/index.php/jifi/article/view/412
>. Date accessed: 29 may 2023.
Licence
Copyright @2017. This is an open-access article distributed under the terms of the Creative Commons Attribution-NonCommercial-ShareAlike 4.0 International License (http://creativecommons.org/licenses/by-nc-sa/4.0/) which permits unrestricted non-commercial used, distribution and reproduction in any medium

This work is licensed under a Creative Commons Attribution-NonCommercial-ShareAlike 4.0 International License.