The Effectiveness of Garcinia Mangostana Peel Extract toward The Number of NK Cell and The Level of IFN-γ in HIV Patient General Hospital Cirebon
MARIA DYAH KURNIASARI

UNIVERSITAS KRISTEN SATYA WACANA

EDI DHARMANA

UNIVERSITAS KRISTEN SATYA WACANA

MUHAMAD HUSEIN GASSEM

UNIVERSITAS KRISTEN SATYA WACANA
Abstract
Mangosteen peel contains xanthone as antioxidant, useful as prooxidant balancer. The activity of xathone can be found from the number of NK cells that will increase the production of IFN-γ cytokine. The human experimental research has been done by Randomized Control Group Pretest-Post Test Design, 20 patients sample for each group. Mann Whitney test was used to determine the diff erences between the group 1 & group 2. The Spearman's Rho Test was used to determine the correlation between the NK cells number and IFN-γ level. There are no signifi cant diff erences between NK cell number (p:0.911) and IFN-γ level (p:0.588) in the pre and post test examination after have been given mangosteen peel extract. There are no signifi cant correlations between NK cell number and IFN-γ level in each group (p: 0.074). There are no eff ects of giving mangosteen peel extract on the number of NK cell and IFN-γ level to HIV patients.
References
1. Nakatami K, Atsumi M, Arakawa T, Oosawa K, Shimura S, Nakahata N OY. Inhibitions of histamine release and prostaglandin E2 synthesis by mangosteen. A Thai Med Plant, Biol Pharm Bull. 2002.25(9):1137–41.

2. Abbas AK, Lichtman AH PS. Cytokines. Dalam: Celluer and molecular immunology. 6th ed.Philadelpia: WB Saunders; 2007.

3. Karnen B. Imunologi Dasar. 6th ed. Jakarta: Balai Penerbit Fakultas Kedokteran Universitas Indonesia; 2004. 4. Kapogiannis BG HS et al. Defective Il-2 production by HIV-1 spesifi c CD4 and CD8 TCells in adolecent/young adult cohort. AIDS Res Hum Retrovir. 2006.22(3):272–82.

5. Miryanti Arry YIP, Sapei Lanny, Budiono Kurniawan IS. Ekstraksi antioksidan dari kulit buah manggis. Bandung Univ Katolik Parahyangan. 2011.

6. Jennifer A. Slyker. The impact of HIV-1 infection and exposure on natural killer (NK) cell phenotype in Kenyan infants during the fi rst year of life. Journal of Frontiers in Immunology, volume 3. 2012.

7. Naranbhai V, Altfeld M, Karim SSA, Ndung'u T, Karim QA, et al. Changes in natural killer cell activation and function during primaryHIV-1 Infection. PLoS ONE. 2013.8(1):53251. doi:10.1371/journal.pone.0053251.

8. Giulia Fregni, Anaenza Freire Maresca, Valérie Jalbert, Anne Caignard, Daniel Scott-Algara, Elisabeth Bordé Cramer, et.al. High number of CD56bright NK-cells and persistently low CD4+ T-cells in a hemophiliac HIV/HCV co-infected patient without opportunistic infections. Virology Journal. 2013.10:331.

9. Oppenheim JJ, Ruscetti FW FC. Cytokines. Dalam: Tites DP, Terr AL (eds). Basic and clinical immunology. 7th ed. Norwalk Connecticut, Appleton & Lange. 1991.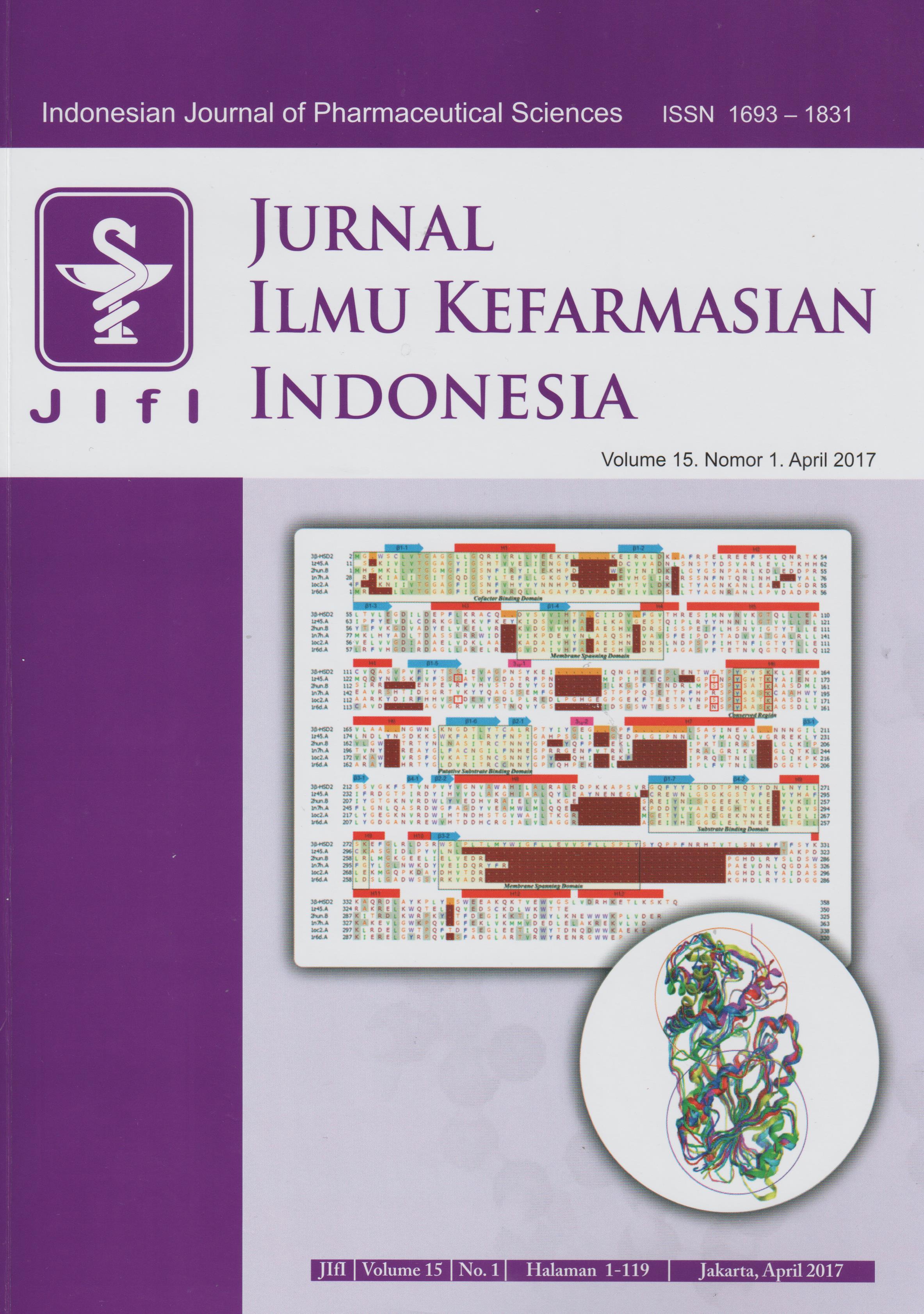 How to Cite
KURNIASARI, MARIA DYAH; DHARMANA, EDI; GASSEM, MUHAMAD HUSEIN. The Effectiveness of Garcinia Mangostana Peel Extract toward The Number of NK Cell and The Level of IFN-γ in HIV Patient General Hospital Cirebon.
JURNAL ILMU KEFARMASIAN INDONESIA
, [S.l.], v. 15, n. 1, p. 25-30, apr. 2017. ISSN 2614-6495. Available at: <
http://jifi.farmasi.univpancasila.ac.id/index.php/jifi/article/view/448
>. Date accessed: 29 may 2023.
Licence
Copyright @2017. This is an open-access article distributed under the terms of the Creative Commons Attribution-NonCommercial-ShareAlike 4.0 International License (http://creativecommons.org/licenses/by-nc-sa/4.0/) which permits unrestricted non-commercial used, distribution and reproduction in any medium

This work is licensed under a Creative Commons Attribution-NonCommercial-ShareAlike 4.0 International License.