Synthesis and Structure Elucidation of 1,3 bis(p-Hydroxyphenyl)urea
HARI PURNOMO

UNIVERSITAS GADJAH MADA

UMAR ANGGARA JENIE

UNIVERSITAS GADJAH MADA

AGUNG ENDRO NUGROHO

UNIVERSITAS GADJAH MADA

HARNO DWI PRANOWO

UNIVERSITAS GADJAH MADA
Abstract
Paracetamol is a well known and commonly used analgesic-antipyretical agent. However, it exhibits hepatotoxic side effect if used for the long term or using exessive dose (10-15 g for single dose). A new compound of 1.3 bis (p-hydroxyphenyl)urea (code-name as HP2009) is an analgesic agent, and it is predicted that its hepatotoxic side effect is lower than that of paracetamol. The compound HP2009 was succesfully synthesized. The result showed that by using molar ratios of p-aminophenol and urea 2:9.5, pH 1 for reaction condition, refluxing for about 1 hr and evaporating time was set up for 30 minutes, the yield of HP 2009 will be 99.49%. The crystals obtained was characterized using spectroscopic methods, and showed undoubtedly that the product was 1.3 bis(p-hydroxyphenyl)urea.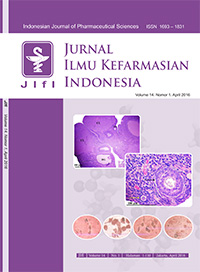 Licencing
All articles in Jurnal Ilmu Kefarmasian Indonesia are an open-access article, distributed under the terms of the Creative Commons Attribution-NonCommercial-ShareAlike 4.0 International License which permits unrestricted non-commercial used, distribution and reproduction in any medium.
This licence applies to Author(s) and Public Reader means that the users mays :
SHARE:
copy and redistribute the article in any medium or format
ADAPT:
remix, transform, and build upon the article (eg.: to produce a new research work and, possibly, a new publication)
ALIKE:
If you remix, transform, or build upon the article, you must distribute your contributions under the same license as the original.
NO ADDITIONAL RESTRICTIONS:
You may not apply legal terms or technological measures that legally restrict others from doing anything the license permits.
It does however mean that when you use it you must:
ATTRIBUTION: You must give appropriate credit to both the Author(s) and the journal, provide a link to the license, and indicate if changes were made. You may do so in any reasonable manner, but not in any way that suggests the licensor endorses you or your use.
You may not:
NONCOMMERCIAL: You may not use the article for commercial purposes.
This work is licensed under a Creative Commons Attribution-NonCommercial-ShareAlike 4.0 International License.