Activity of Compounds in Chocolate Seaweed as Anti-atherosclerosis with Ligand Comparison HMG-COA Reductase-simvastatin and in-Silico Toxicity Test
Sarah Zaidan

Fakultas Farmasi Universitas Pancasila

Deni Rahmat

Fakultas Farmasi Universitas Pancasila

Ratna Djamil

Fakultas Farmasi Universitas Pancasila
Abstract
Introduction:Sargassum.sp is one of the marine biota published as antiaterosclerosis, but compound toxicity data need to be explored for safety.
Method: Virtual screening has been done with MVD software from active compounds contained in sargassum where has activity as antiaterosclerosis with the mechanism of hypolipidemic effects. Test compounds in sargassum include: fucoidan, rhamnose, fucose, galactose, fucoxantin, alginate, phlorofucofuroeckol A, phloroglucinol, phlorotannin, with HMG-COA Reductase-Simvastatin adenosine receptors with a 1HW9 /PDB code. Its toxicity is predicted using pkCSM (online).
Results: The value RS, RMSD value as a result of the docking simulation carried out on said compounds, the following results are obtained: fucoidan (-110,420; 1,478), rhamnose (-72,081; 1,629), fucose (-98,408; 1,546), galactose (-95,757; 5,187), fucoxantin (-106,297; 2,161), alginate (-84,674; 2,897), phlorofucofuroeckol A (-106.701; 2,809), phloroglucinol (-103,140; 2,142), phlorotannin (-48,826; 7,750). The prediction results of toxicity showed fucoidan, rhamnose, fucose, galactose, fucoxantin, alginate, phlorofucofuroeckol A, phloroglucinol and phlorotannin not toxic with LD50 0.95-2.482g / kg.
Conclusion:Based on RS values, fucoidan, fucoxantin and phlorofucofuroeckol A compounds contained in brown seaweed were predicted to have activity as antiaterosclerosis. Compounds in brown seaweed can also be predicted to be relatively non-toxic with a value of LD50 0.95-2.482g / kg.
References
1. Schimandle JH, Boden SD. The Use of Animal Models to Study Spinal Fusion. Spine-Hagerstown. 1994;19(17):1988–91.

2. Nafilah R, Prasetya RC, Susilawati IDA. Deteksi Lesi Aterosklerosis Koroner pada Model Tikus Periodontitis ( Detection of Coronary Atherosclerotic Lesions in Periodontitis Rat Model ). 2015;3(2).

3. Fujii M, Hou D-X, Nakamizo M. Fucoidan-based health food. U.S. Pat. Appl. Publ. 2005. p. 10 pp.

4. Pakidi CS, Manajemen J, Perairan S, Pertanian F, Musamus U. Potensi Dan Pemanfaatan Bahan Aktif Alga Cokelat. 2016;5:488–98.

5. Sedjati S, Santosa A, Supriyantini E. Aktivitas Antioksidan dan Kandungan Senyawa Fenolik Makroalga. 2017;20(November):117–23.

6. Kadi A. Beberapa Catatan Kehadiran Marga Sargassum. Oseana. 2005;XXX(4):19–29.

7. Limantara L, Heriyanto. Optimasi proses ekstraksi fukosantin rumput laut cokelat Padina australis Hauck menggunakan pelarut organik polar. Ilmu Kelaut. 2011;16(2):86–94.

8. Puspaningtyas AR. MOLECULAR DOCKING USING MOLEGRO VIRTUAL DOCKER (MVD) ON WATER EXTRACT OF GUAVAFRUIT (PSIDIUM GUAJAVA, LINN) AND SWEET ORANGE (citrus sinensis, peels) AS INHIBITOR ON ENZYME TYROSINASE AS POSITIVE CONTROL OF WHITENING AGENT. Jkti. 2013;15(1):31–9.

9. Saeful Amin I. Simulasi Docking Molekuler Senyawa Xanthorrhizol sebagai Antiinflamasi terhadap Enzim COX-1 dan COX-2 Molecular Docking Simulation of Xanthorrhizol Compounds Derived from Temulawak as Antiinflammatory on Enzymes COX-1 and COX-2. Dinata Deden 2014. 2014;1:7–13.

10. Ahmad Saifuddin, Siswandono dan BPEW. Studi In Silico Gendarusin A, B, C, D, Dan E Untuk Prediksi Absorbsi Dan Aktivitas Terhadap Hialuronidase (Ec 3.2.1.35) Ahmad. J Farm dan Ilmu Kefarmasian Indones. 2014;1(2):42–7.

11. Dini Kesuma, Siswandono Siswandono, Bambang Tri Purwanto SH. Uji in silico Aktivitas Sitotoksik dan Toksisitas Senyawa Turunan N-(Benzoil)-N'- feniltiourea Sebagai Calon Obat Antikanker _ Kesuma _ JOURNAL OF PHARMACEUTICAL SCIENCE AND CLINICAL RESEARCH, 2015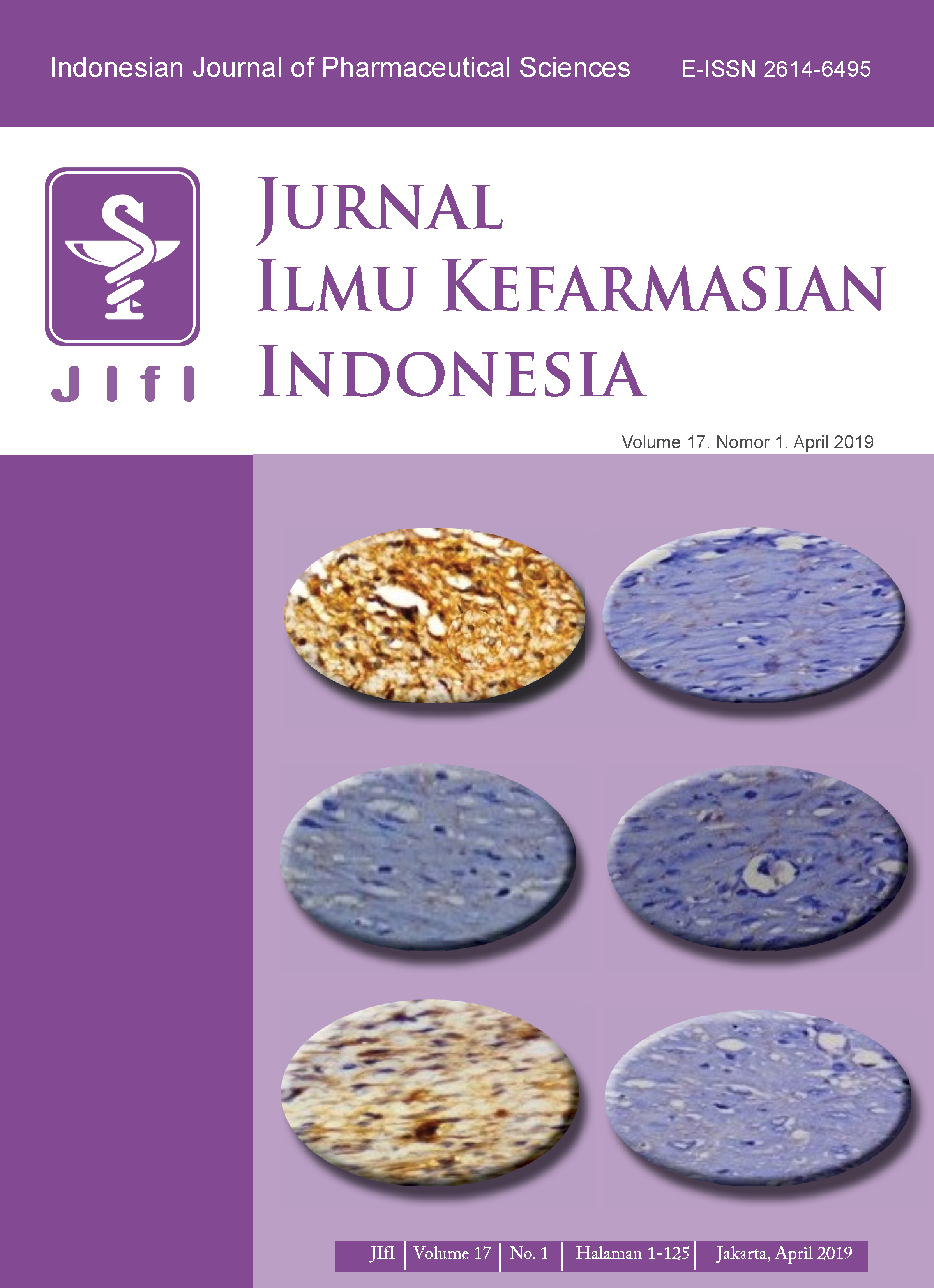 How to Cite
ZAIDAN, Sarah; RAHMAT, Deni; DJAMIL, Ratna. Activity of Compounds in Chocolate Seaweed as Anti-atherosclerosis with Ligand Comparison HMG-COA Reductase-simvastatin and in-Silico Toxicity Test.
JURNAL ILMU KEFARMASIAN INDONESIA
, [S.l.], v. 17, n. 1, p. 120-125, apr. 2019. ISSN 2614-6495. Available at: <
http://jifi.farmasi.univpancasila.ac.id/index.php/jifi/article/view/557
>. Date accessed: 17 july 2019.