KINETIKA PERTUMBUHAN BEBERAPA MIKROBA PENGHASIL A - AMILASE MENGGUNAKAN MOLASE SEBAGAI SUMBER KARBON
Trismilah Trismilah

Pusat Pengkajian dan Penerapan Teknologi Bioindustri BPPT

Sumaryanto Sumaryanto

Universitas Pancasila
Abstract
Molasse as a waste product in sugar industry can be used as alternative carbon source in fermentation, which influences the growth of microbes and production process. In this experiment 5% molasses was used as a medium for producing a - amylase using Bacillus subtilis ATCC 6633, Streptomyces fradiae, and Aspergillus niger. The experiment was done in an Erlenmeyer of 125 ml in a shaker incubator with 250 rpm agitation. The temperature was adjusted to 37°C and the initial pH for Bacillus subtilis ATCC 6633: waste pH=8; Streptomyces fradiae: pH=7, and Aspergillus niger : pH=5. The result showed, that the highest growth and enzyme activity were accomplished by Bacillus subtilis ATCC, while specific growth rate (u max)= 0,1501 in 24 hours attained.
References
1. Priest and Sharp : Fermentation of bacilli In : Neway JO. Fermentation process development of industrial organism. New York and Basel : Marcel Dekker Inc;1989.

2. Windish WW, Mhatre NS. Microbial amylases In : Umbreit WW. Applied microbiology. Vol.7. New York and Basel : Academic Press ;1965.

3. Bull MJ. Progress in industrial microbiology. Vol.XV. Amsterdam Elsevier; 1979.

4. Suhartono MT. Enzim dan bioteknologi. Bogor PAU Bioteknologi , Institut Pertanian Bogor;1989.

5. Sardjoko. Bioteknologi, Latar Belakang dan Beberapa Penerapannya. Jakarta: Gramedia Pustaka Utama; 1991.

6. Frost GM, Moss DA. Production of enzymes by fermentation. In: Rehm HJ, Reed G. Biotechnology Vol.7A; 1987.

7. Crueger W, Crueger A. A Textbook of industrial microbiology. Sunderland : Sinaver Asssociates; 1983.

8. Bernfeld P. Method in Enzymol. In : Stellmach B. A Bestimmungs Methoden Enzyme fur Pharmazie, Lebensmittelchemi, Technik Biochemie, Biologie, Medizin. Darmstadt : Steinkopff Verlag; 1955.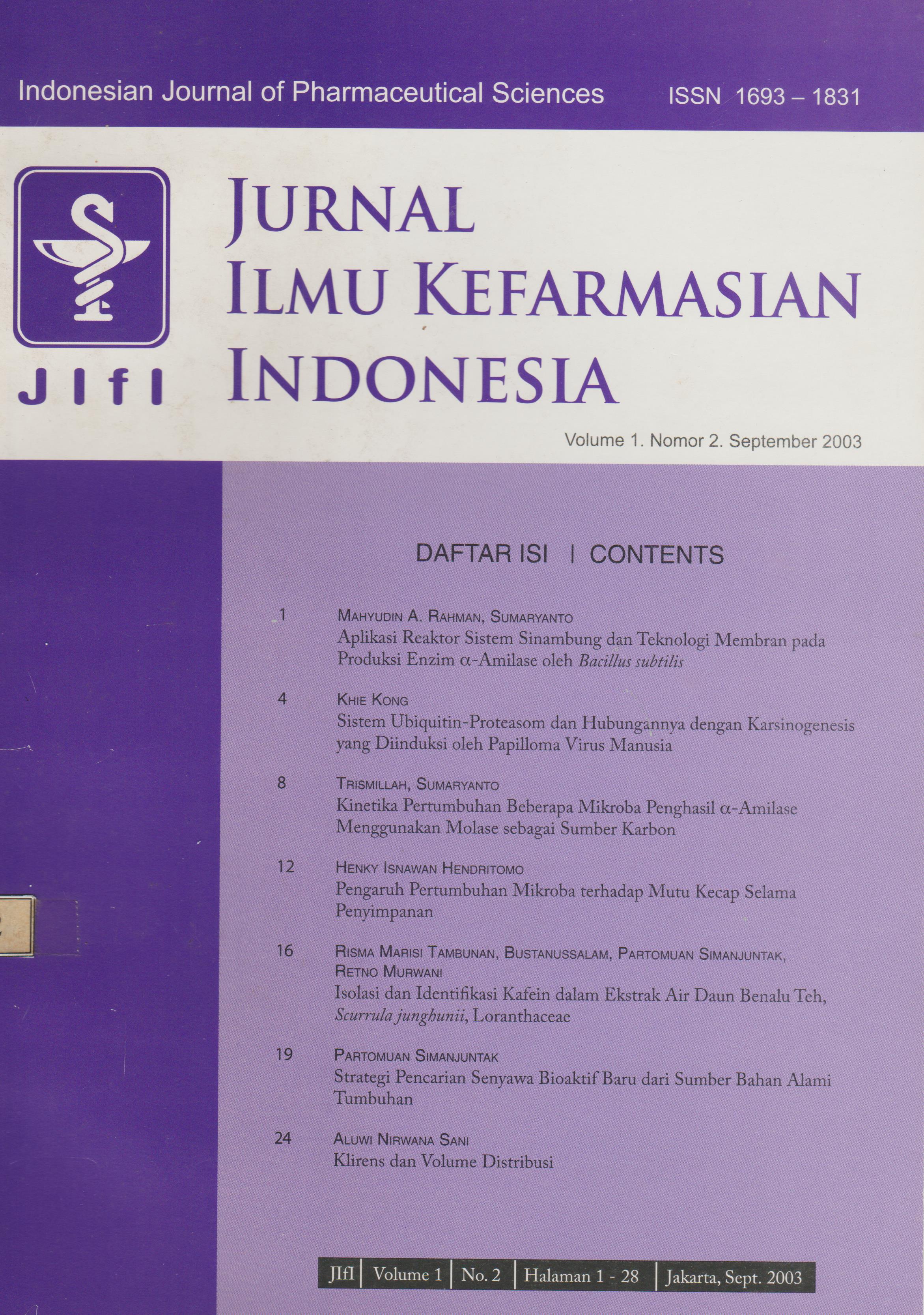 How to Cite
TRISMILAH, Trismilah; SUMARYANTO, Sumaryanto. KINETIKA PERTUMBUHAN BEBERAPA MIKROBA PENGHASIL A - AMILASE MENGGUNAKAN MOLASE SEBAGAI SUMBER KARBON.
JURNAL ILMU KEFARMASIAN INDONESIA
, [S.l.], v. 1, n. 2, p. 62-64, sep. 2003. ISSN 2614-6495. Available at: <
http://jifi.farmasi.univpancasila.ac.id/index.php/jifi/article/view/655
>. Date accessed: 04 june 2023.
Licence
Copyright @2017. This is an open-access article distributed under the terms of the Creative Commons Attribution-NonCommercial-ShareAlike 4.0 International License (http://creativecommons.org/licenses/by-nc-sa/4.0/) which permits unrestricted non-commercial used, distribution and reproduction in any medium

This work is licensed under a Creative Commons Attribution-NonCommercial-ShareAlike 4.0 International License.