Antioxidant Activity Test of Corn (Zea mays L.) Silk Lip Balm Preparations with DPPH (1,1-Diphenyl-2-Picrylhydrazyl) Method
Hartati Hartati

Poltekkes Kemenkes Gorontalo

Fadli Husain

Poltekkes Kemenkes Gorontalo

Nangsih Sulastri Slamet

Poltekkes Kemenkes Gorontalo

Fihrina Mohamad

Poltekkes Kemenkes Gorontalo

Zulfiayu Sapiun

Poltekkes Kemenkes Gorontalo
Abstract
Jagung sebagai komoditas utama di Provinsi Gorontalo menghasilkan limbah yang cukup
banyak. Hal ini membuat pemerintah menawarkan peluang investasi dengan memanfaatkan limbah
jagung, di antaranya rambut jagung. Studi pustaka menunjukkan bahwa rambut jagung memiliki
aktivitas antioksidan yang cukup baik, sehingga dilakukan formulasi lip balm dengan memanfaatkan
infusa rambut jagung sebagai bahan aktif. Penelitian kuantitatif dengan quasi eksperimen laboratorium
dilakukan untuk mengetahui aktivitas antioksidan dari sediaan lip balm rambut jagung (Zea mays L.)
yang diformulasi dengan menggunakan tiga konsentrasi infusa rambut jagung, yaitu Formula A (7,5%);
Formula B (15%) dan Formula C (22,5%). Sediaan dibuat dengan mencampurkan fase air (infusa rambut
jagung dan gliseril monostearat) dengan fase minyak (lanolin, beeswax, setil alkohol, paraffi n cair dan
minyak jagung) serta emulgator (span 60 dan tween 60). Hasil uji stabilitas organoleptik dan pH selama
4 minggu pengamatan menunjukkan bahwa tidak ada perubahan, baik dari segi organoleptik maupun
pH masing-masing sediaan. Aktivitas antioksidan diukur dengan menggunakan spektrofotometer UVVisibel
"SHIMADZU UV-1800" dan kuersetin (1000 μg/mL) sebagai pembanding. Hasil pengujian
menunjukkan bahwa Formula B (15%) memberikan aktivitas yang lebih baik dalam meredam radikal
DPPH dengan nilai IC50 sebesar 0,987 mg/mL, Formula C (22,5%) sebesar 1,857 mg/mL dan Formula
A (7,5%) sebesar 2,909 mg/mL.
References
1. Sayuti K, Yenrina R. Antioksidan alami dan sintetik.
Padang: Andalas University Press; 2015. 10–7, 79–76p.

2. Rohmitriasih. Ingin bibir makin cantik & cerah alami,
coba perawatan ini yuk! [Internet]. Vemale.com. 2017
[cited 2019 Jan 16]. Available from: https://www.
vemale.com/cantik/110126-ingin-bibir-makin-cantikcerah-
alami-coba-perawatan-ini-yuk.html

3. Cahya KD. Pria pakai lip balm, apakah perlu?
[Internet]. KOMPA S.com. 2017 [cited 2019
Jan 16]. Available from: lifestyle.kompas.com/
Sampel% Inhibisi pada setiap konsentrasi (mg/mL)
IC50 (mg/mL)0,5 1,0 1,5 2,0 2,8 Konsentrasi 7,5% 31,86
±1,06 33,25±0,86 38,48±1,12 42,41±1,71 47,38±
1,34 2,909 Konsentrasi 15% 36,84±1,41 53,92±0,00
62,09±0,14 69,19±0,28 78,34±1,02 0,987
Konsentrasi 22,5% 31,86±0,14 37,34±0,142 44,28
±0,14 53,76±0,86 58,17±0,28 1,857 Kuersetin
(pembanding) 1,72 (μg/mL)Tabel 4. Persen inhibisi
dan nilai IC50. read/2017/12/13/193021520/
pria-pakai-lip-balmapakah-perlu.

4. Fatimah. Hal yang tidak anda ketahui tentang lip balm
[Internet]. Serambinews.com. 2018 [cited 2019 Jan 16].
Available from: aceh.tribunnews.com/2018/12/06/5-
hal-yang-tidak-anda-ketahui-tentang-lip-balm.

5. Inggrid M, Santoso H. Ekstraksi antioksidan dan
senyawa aktif dari buah kiwi (Actinidia deliciosa).
Lemb Penelit dan Pengabdi Kpd Masy. 2014;III(3):43.

6. Kusriani H, Marliani L, Apriliani E. Aktivitas
antioksidan dan tabir surya dari tongkol dan rambut
jagung (Zea mays L.). 2017;4.

7. Solihah MA, Rosli WWI, Nurhanan AR. Phytochemicals
screening and total phenolic content of Malaysian Zea
mays hair extracts. Int Food Res J. 2012;19(4):1533–8.

8. Isnawati AP, Retnaningsih A. Perbandingan teknik
ekstraksi maserasi dengan infusa pada pengujian
aktivitas daya hambat daun sirih hijau (Piper betle
L.) Terhadap Escherichia coli. J Farm Malahayati.
2018;1(1):19–24.

9. Widyasari EM, Sriyani ME, Daruwati I, Halimah
I, Nuraeni W. Karakteristik fisiko-kimia senyawa
bertanda 99mTc-Kuersetin. J Sains dan Teknol Nukl
Indones. 2019;20(1):9–18.

10. Aminah A, Maryam S, Baits M, Kalsum U. Perbandinga
aktivitas antioksidan ekstrak etanol daun sirsak
(Annona muricata L.) berdasarkan tempat tumbuh
dengan metode perendaman DPPH. J Fitofarmaka
Indones. 2016;3(1):146–50.

11. Tranggono R , Latifah. Buku pegangan ilmu
pengetahuan kosmetik. Jakarta: Gramedia Pustaka
Utama; 2007.

12. Yulyuswarni. Formulasi ekstrak kulit buah naga merah
Gambar 4. Profi l peningkatan persen penghambatan sampel A (7,5%), sampel B (15%) dan sampel C (22,5%).
Jurnal Ilmu Kefarmasian Vol 18, 2020 Indonesia 226
(Hylocereus polyrhizus) sebagai pewarna alami dalam
sediaan lipstik. J Anal Kesehat. 2018;7(1):673–9.

13. Untari EK, Robiyanto R. Uji fi sikokimia dan uji iritasi
sabun antiseptik kulit daun Aloe vera (L.) Burm. f. J
Jamu Indones. 2018;3(2):55–61.

14. Solikhah R., Purwantoyo E, Rudyatmi E. Aktivitas
antioksidan dan kadar klorofi kultivar singkong di
Daerah Wonosobo. Life Sci. 2019;8(1):86–95.

15. Tristantini D, Ismawati A, Pradana BT, Gabriel J.
Pengujian aktivitas antioksidan menggunakan metode
DPPH pada daun tanjung (Mimusops elengi L ). Univ
Indones. 2016;2.

16. Wikanta T, Januar HI, Nursid M. Uji aktivitas
antioksidan, toksisitas, dan sitotoksisitas ekstrak alga
merah Rhodymenia palmata. J Penelit Perikan Indones.
2017;11(4):41.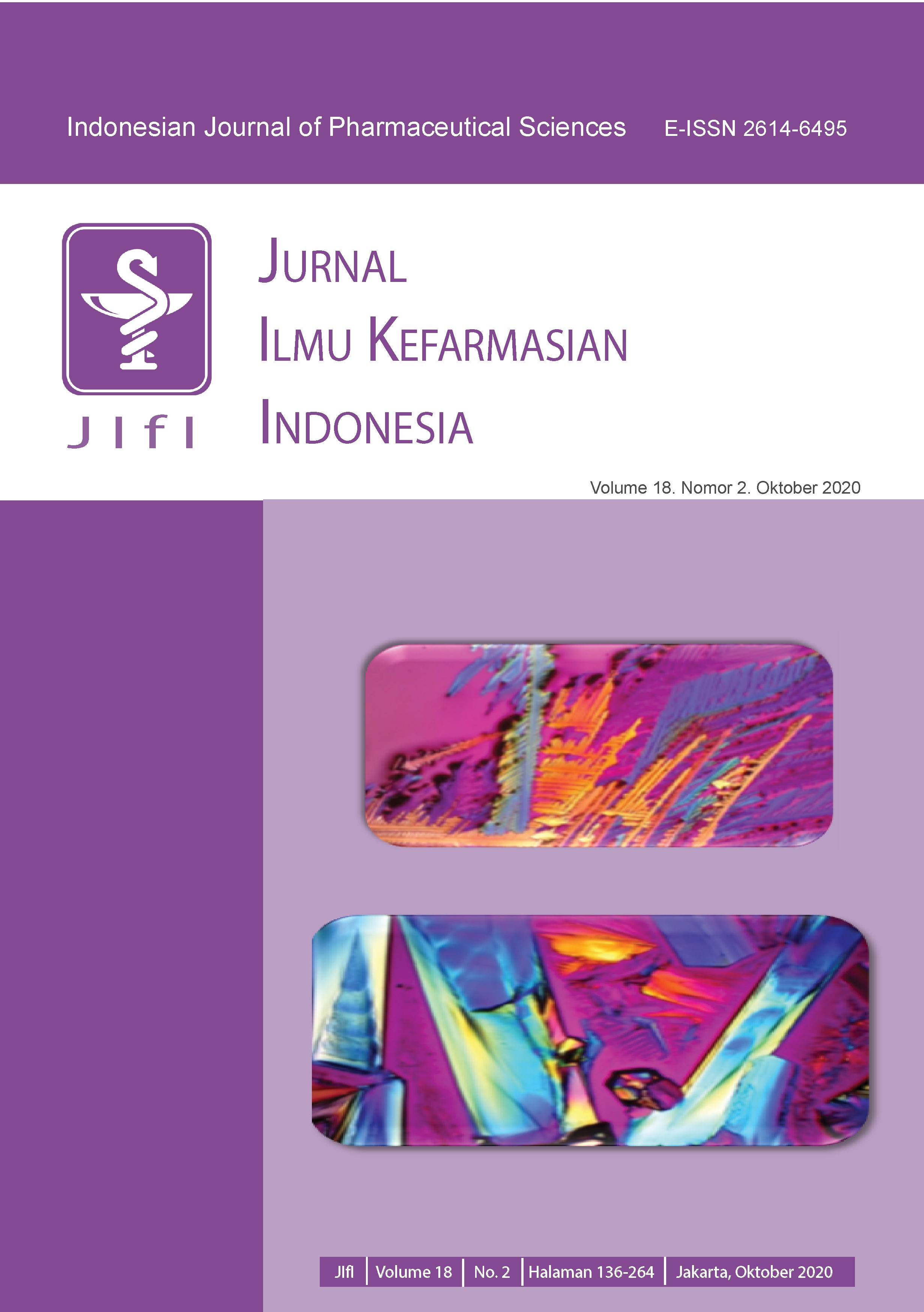 This work is licensed under a Creative Commons Attribution-NonCommercial-ShareAlike 4.0 International License.
Licencing
All articles in Jurnal Ilmu Kefarmasian Indonesia are an open-access article, distributed under the terms of the Creative Commons Attribution-NonCommercial-ShareAlike 4.0 International License which permits unrestricted non-commercial used, distribution and reproduction in any medium.
This licence applies to Author(s) and Public Reader means that the users mays :
SHARE:
copy and redistribute the article in any medium or format
ADAPT:
remix, transform, and build upon the article (eg.: to produce a new research work and, possibly, a new publication)
ALIKE:
If you remix, transform, or build upon the article, you must distribute your contributions under the same license as the original.
NO ADDITIONAL RESTRICTIONS:
You may not apply legal terms or technological measures that legally restrict others from doing anything the license permits.
It does however mean that when you use it you must:
ATTRIBUTION: You must give appropriate credit to both the Author(s) and the journal, provide a link to the license, and indicate if changes were made. You may do so in any reasonable manner, but not in any way that suggests the licensor endorses you or your use.
You may not:
NONCOMMERCIAL: You may not use the article for commercial purposes.
This work is licensed under a Creative Commons Attribution-NonCommercial-ShareAlike 4.0 International License.